February 24th is coming up fast and those of us working on our certifications are scrambling to complete them before the change. But for those who may not get it done before the deadline, you may need to start studying for the new exams. But what is on the new exams, what topics are covered, and most importantly what training material is out there. Today I will be comparing the certification requirement differences for the CCNP Collaboration. I will explain what you can expect as far as differences in exam topics, testing format, and what study material is available.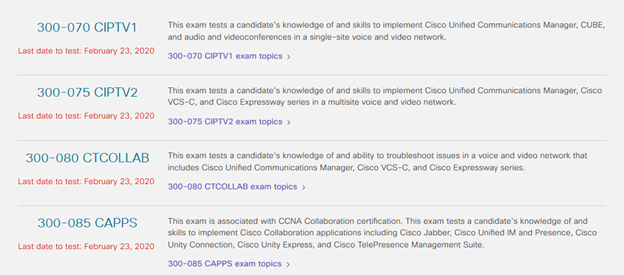 Currently the CCNP requires that you receive a passing score on the above 4 exams. These exams test your knowledge on single and multi-site deployments, cisco edge technologies, cube, and integration with other cisco applications such as unity, jabber, IM&P, and TMS. You will also be tested on your ability to troubleshoot these technologies.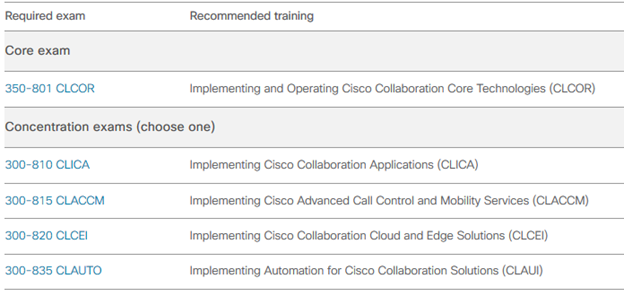 Come February 24th you will only be required a passing score on 2 exams, the core exam and one concentration exam. The core exam tests a candidate's knowledge of implementing core collaboration technologies including infrastructure and design, protocols, codecs, and endpoints, Cisco IOS XE gateway and media resources, Call Control, QoS, and collaboration applications. Here's a breakdown of the core exam categories.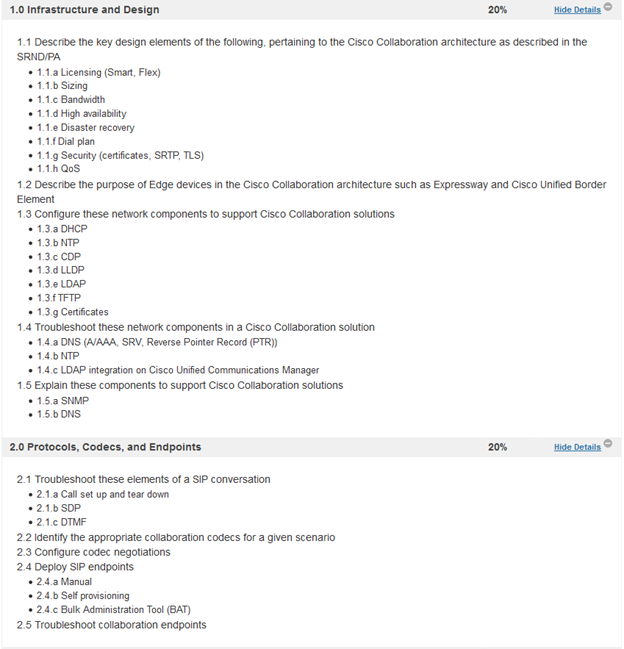 The first 2 sections are infrastructure and design, and protocols, codecs, and endpoints. Section one focuses on Design considerations such as Licensing, dial plan, security, and QOS. It also tests your ability to configure and troubleshoot on architecture components such as TFTP, DHCP, LDAP and so on. Section 2 focuses on configuring and troubleshooting collaboration endpoints and SIP call flow.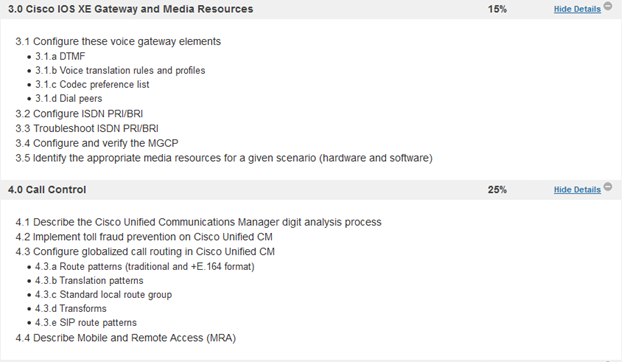 Section 3 focuses on your ability to configure and troubleshoot voice gateways this encompasses translation rules and profiles, dial-peers, dtmf, and codec preferences. Section 4 takes section 1 a bit further, in section one you will be tested on design consideration but section 4 tests on dial plan configuration. You will be tested on your understanding of digit analysis and MRA, and your ability to configure route and translation patterns.
Section 5 also extends section 1 by taking a deep dive into your understanding of QOS. You will be tested on your understanding of why QOS is needed and its requirements. And section 6 focuses on your understanding and ability to configure other collaboration applications like unity, im&p, and jabber.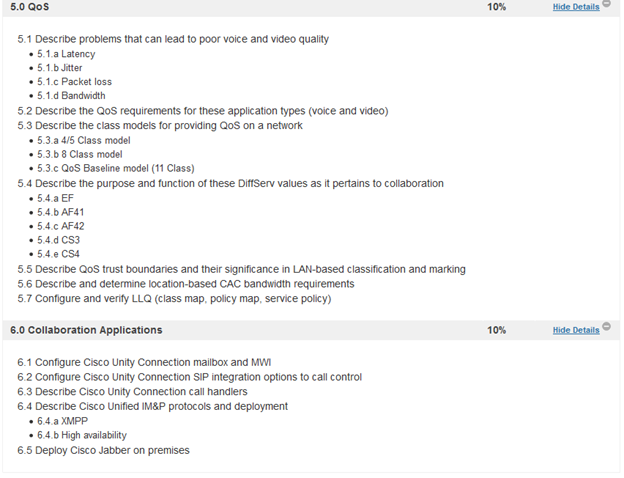 In comparison to the design of the CCNP certification design now, the new CCNP core exam seems to be all 4 current CCNP exams in one. This removes the focus of single site deployments versus multisite deployments as it is now with CIPTV1 and 2. The question type will be the same multiple choice, fill in the blank, simulations, and simlets. The new exam will be 120 minutes instead of the current 75-minute exams. They haven't specified the amount of questions yet, but I assume it'll be more than the current 50-60 questions since the exam time will be longer.
With the new CCNP certification track you will be required to pass 1 concentration exam in addition to the core exam. The concentration exams take a deeper dive into the content of your chosen track listed below. I will not be going into the content of each concentration exam, but I will include a link at the end of this document where you can find this information.

Now that we know what we're facing in order to acquire the new CCNP collaboration, what study materials are available. Well since a lot of the exam topics from the core exam will carry over from the current exams, starting with the current documentation and books available for the 4 CCNP exams is a good place to start. Cisco Press will be releasing a new official Cert guide for the core exam in April.
*CCNP and CCIE Collaboration Core CLCOR 350-801 Official Cert Guide
Jason Ball • ISBN 9780136412595 • April 2020*
As for the concentration exams there hasn't been any official training documents released. So, we're on our own at the moment to parse through cisco documentation on the website. Cisco does say that there will be training courses available for the concentration exams but there is no definite date as to when. I hope this information was helpful for my fellow collaboration engineers, there are a few links below that I thought might be helpful. Good Luck!!
Official cert guide release dates:
http://www.ciscopress.com/promotions/new-cisco-certifications-142035
CCNP core exam and concentration exam topics:
https://learningnetwork.cisco.com/community/certifications/ccnp-collaboration-cert
Written By: Terrance Ellis, UC Engineer
Here at LookingPoint our engineers have many of Cisco's certifications and are ready to help you with any of your technology questions, concerns or comments. Feel free to contact us here so we can help you with any of your IT needs.