Many organizations are rolling out Microsoft Teams for their employee's main collaboration client software. MS Teams is easy to use and offers many business features for individuals and groups to collaborate. Microsoft is also replacing the Skype for Business application with the Microsoft Teams client, which has accelerated company's migration to MS Teams. However, one area that can be a bit challenging is the integration of a conference room video endpoint into Microsoft Teams. This is because codec-based video endpoints use the standards-based SIP protocol. While, Microsoft Teams created their own signaling protocol called Microsoft Network Protocol version 24 or MNP24 for short. Microsoft is only allowing certain 'authorized' partners to access the API/Gateway functions necessary to integrate standards-based videoconferencing systems, which has made it more difficult for companies wanting to integrating their standards-based SIP video endpoints such as Cisco, Polycom, Lifesize and others into MS Teams.
Recently I had the pleasure of working with one of the top technology companies that has created a solution to integrate SIP and H.323 video endpoints into Microsoft Teams. The company is named Pexip and they have an innovative solution, which takes all the complexity out of integrating your video endpoints with MS Teams. I was able to immediately use my Cisco Room devices with a scheduled MS Teams meeting. They even extend the One-Button-to-Push capabilities to the Cisco Touch10 control panel. Pexip supports multiple deployment methods from On-Premise to an all Cloud solution. I chose the cloud deployment method for its ease and speed of deployment.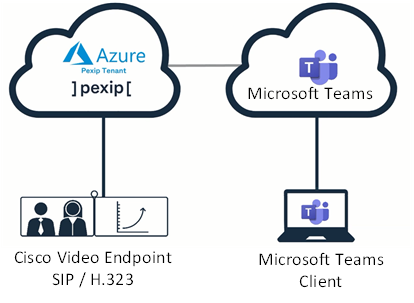 Pexip Cloud Deployment
As stated, the deployment was very quick. I was able to get everything up and running in under an hour. The Pexip team provided easy to follow guidance through the process. Here were the steps I took to complete the video integration.
Add SIP and H323 SRV records to your DNS server to resolve the Pexip cloud servers
Authorize Pexip with your Office 365 tenant.
Lastly, enable the Pexip interop for Teams users.
This third step is performed by running a Powershell command that creates a new video interop service with your Trusted App ID and sets it as trusted. Pexip provides the Powershell script to run and to make it even easier, they provide the exact syntax with your company domain name already included in the script. This helps ensure nothing is mistyped when running the script.
User Experience
Employees will now be able to schedule a Microsoft Teams meeting and join with a Cisco video TelePresence endpoint. The MS Teams meeting can be scheduled from Outlook or directly from Teams.
You can see in this screen shot below that the SIP URI for video conference endpoints to dial is now included in the Teams meeting invite. It's that simple. The video layout on the Cisco video endpoint is handled by Microsoft Teams, so the user experience is the same for those joining by web browser, teams app, or Cisco video endpoints.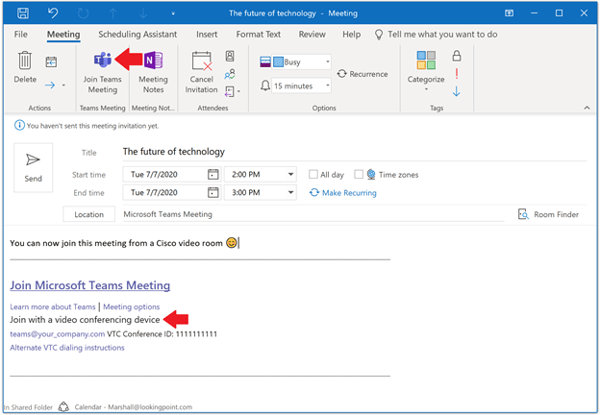 I hope this has been informative for you and as always, if you have any questions and would like to schedule a free consultation with us, please feel free to reach out to us at sales@lookingpoint.com and we'll be happy to help!
Written By:
Marshall Hill, Solutions Architect