All major server manufactures have a built-in baseboard management controller (BMC) for remote server management. These are great tools for onboarding a server and maintaining the server throughout its lifetime. Most of my day to day experience has been using the Cisco IMC, Dell iDRAC, HPE iLO, and IBM IPMI. Some of the server vendors require an additional license to unlock the full features of their remote server management such as Dell iDRAC Enterprise and HPE iLO Advanced licenses, while other server vendors include all feature capabilities by default.
When managing many systems, it's best to use a solution that can manage all the infrastructure. Again, many of the server hardware manufactures have solutions to address this; such as Cisco UCS Manager and Director, Dell OpenManage, HPE ONEVIEW, etc. These tools can be a great time saver for many of the larger IT shops. However, with organizations wanting to be more nimble and refocus IT resources to more important tasks, management tools need to evolve.
I was impressed when I started using the Cisco Intersight application. Intersight is a cloud Software-as-a-Service (SaaS) application by Cisco for managing the Cisco server portfolio. This includes Cisco C-Series rack servers, Blade servers, Fabric Interconnects, and even the HyperFlex systems which is a Hyper-Converged Infrastructure (HCI) solution. With Intersight no need to turn up another on-premise server or servers just to manage your infrastructure. This has the effect of instant management capacities with a simple subscription.
Intersight is offered as a Base Edition which is free and an Essentials Edition with a software subscription. I found it very easy to get started and using the tool was extremely intuitive. I particularly liked the features where I can configure policies for a group of servers or all servers such as the BIOS settings, Performance and Power settings, RAID settings, and more. I'm also able to update the server firmware and deploy and OS all from the secure cloud management app (Intersight).
Licensing Tiers
Base Edition (Free License)
Essentials Edition

• Supports Cisco UCS and HyperFlex Systems

• Global monitoring of health and inventory status

• User customizable dashboard

• Tagging and basic search

• Context launch of element managers (UCS Manager, IMC, and HyperFlex Connect)

• HyperFlex Installer – quickly deploy clusters

All the functionality of the Base Edition

• Simplified server setup and policy based configuration with service profiles

• Firmware management with scheduled updates

• Detailed inventory and server actions

• Remote management and virtual Keyboard-Video-Mouse (vKVM)

• Advanced global search and detailed inventory

• HCL compliance check and upgrade

recommendations
First Time Logging into Intersight
As mentioned, Intersight Base Edition is free and is included with each UCS server. Simply go to https://www.intersight.com and log in using your cisco.com user ID. If you don't already have a cisco.com login, you can also create one from the intersight login page.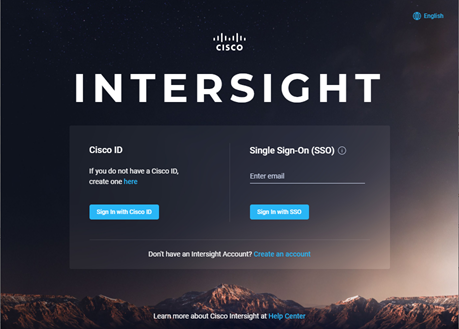 Once logged in you can register any Essentials subscription licenses that were purchased or you can start an evaluation of Essentials which is good for a 90 day trail period.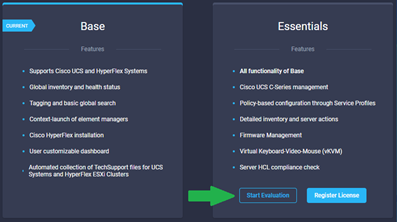 Intersight can manage the servers once you register it with Intersight by coping the server serial number the security code.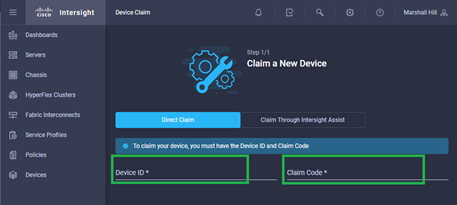 Cisco Intersight connects to the platform management interface. Server communication to Intersight is encrypted and there are No inbound firewall rules needed to be opened. All communication is outbound HTTPS connections on port 443 as well as DNS needs to be able to resolve svc.ucs-connect.com. Additionally, proxy can be configured in the server device connector user interface if used.
Once the servers are managed with Intersight you'll see the status show Connected.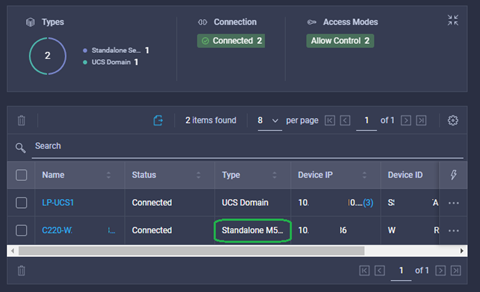 When you click on a server you can visually see the health of all the installed components and choose various actions such as launching the KVM, upgrading firmware, install an operating system, power cycle the server, etc.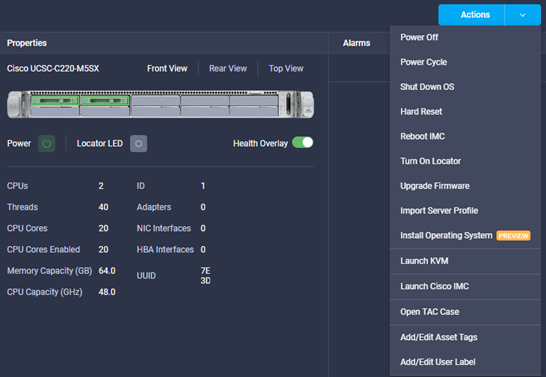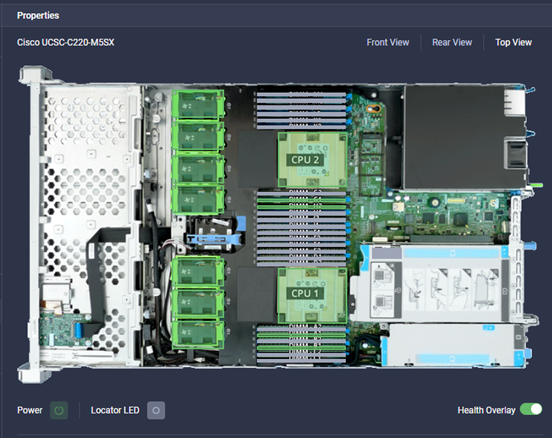 What's Next
I'm planning to use the Intersight RESTful API which is based on the OpenAPI standard. https://intersight.com/apidocs/introduction/overview/
Written By: Marshall Hill, LookingPoint Solutions Architect