A few months of ago I was asked to help bring up a branch site for one of LookingPoint's clients. This was unscheduled work and it was the first time I encountered Cisco's Mobility Express. My previous projects have been enterprise deployments either using the traditional WLC or Meraki's cloud managed APs. With Mobility Express, Cisco allows an AP to run as a wireless controller. Starting with 802.11ac Wave 2 access points, Cisco embedded a virtual WLC into the access point. I was pleasantly surprise and thought this make perfect sense for branch offices or for small to medium-sized businesses. No longer are branch sites tethered to HQ for wireless with capwap tunnels from branch site APs having to register with the WLC at HQ. This can be a great solution for sites with limited IT staff.
The Hardware
Cisco Mobility Express is support in the following access points.:
Cisco Aironet 4800, 3800, 2800, 1850, 1830, 1815, 1560, and 1540 Series
This table shows the product IDs (SKUs) for ordering the access ports.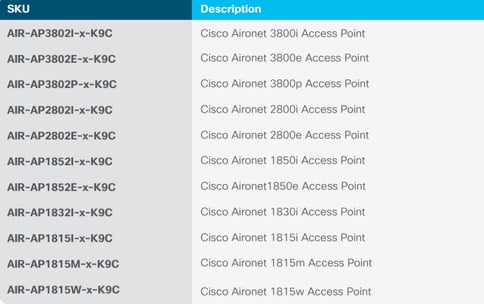 Licenses
There is no license requirement for Mobility Express.
Deployment
Once Mobility Express enabled access points are ordered the next step is deployment. Cisco has simplified the deployment. However, there are still a few pre-requisites for deploying Mobility Express.
Pre-requisites:
No other WLC or Mobility Express capable APs on the same network during set up.
Configure a DHCP server on the switch or externally to provide IP addresses.
Select the designated Mobility Express AP. The first Mobility Express AP configured will be the Master AP. All other Mobility Express APs will be lightweight APs and operate as Subordinate APs.
Wireless Laptop to connect to the pre-defined CiscoAirProvision
Configuration
The configuration only requires a few additional steps. First, we want to configure the switch port that the AP will be connected to. This switchport should be POE and provide the power to the AP. Once the AP is online we can then use the Over-the Air Setup Wizard to provision the Mobility Express Master AP.
Switch port configuration
The switchport configuration can be an access port or a trunk. If multiple VLANs are used for client traffic, the switchport will be configured as a trunk. The native VLAN will provide the management IP for the AP.
interface GigabitEthernet1/0/1
description **Master ME AP**
switchport trunk native vlan 10
switchport trunk allowed vlan 10,20,30
switchport mode trunk
Over-the-Air Setup Wizard

When the AP's status LED is chirping green that means the AP is ready to be configured.

*NOTE* The following screenshots are from Cisco since I currently do not have access to an ME AP.

Connect to the pre-defined CiscoAirProvision Use the default password password.
Open a browser and go to http://192.168.1.1 and configure the admin account.

Configure the controller and note the management IP.

Create a wireless network.

Apply and save the settings.
In just 20 minutes or so we can bring up a Mobility Express Master AP and have it running in production. This solution will handle up to 100 access points and 2000 clients and would be ideal for smaller-scale deployments. For ease of management and set up this rivals Cisco 's Meraki cloud solution without the need for a subscription.
References:
https://www.cisco.com/c/dam/en/us/solutions/collateral/enterprise-networks/mobility-express/guide-c07-741338.pdf
https://www.cisco.com/c/en/us/td/docs/wireless/controller/technotes/8-2/b_Mobility_Express_Deployment_guide/b_Mobility_Express_Deployment_guide_chapter_0100.html
Written By: Rick Wong, LookingPoint Principal Network Architect
If you are interest in Mobility Express, feel free to reach out to us and we can get you set up!