The two primary storage architectures in many companies today are a Storage Area Network (SAN) or a Network Attached Storage (NAS) solution. Traditionally a SAN provides Block storage while a NAS provides File level storage. It's also worth noting that internal server storage is making a comeback with the advent of software-defined storage (SDS). I'll save the software-defined storage (SDS), Hyper Converged Infrastructure (HCI) as well as Object storage such as Amazon Simple Storage Service (Amazon S3) for another article.
The five predominate storage protocols I see today in the mid-market are Fibre Channel (FC), Internet Small Computer System Interface (iSCSI), Fibre Channel over Ethernet (FCoE), Network File System (NFS), and Common Internet File System (CIFS). Other storage communication standards such as InfiniBand (IB) are reserved more for the high-performance computer (HPC) environments that require very high throughput and a very low latency such as in supercomputers.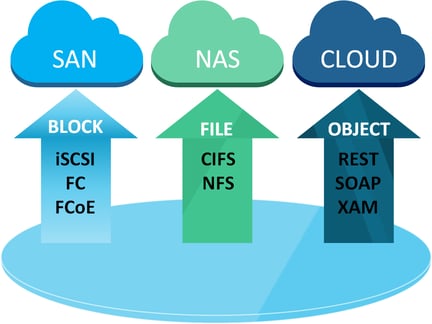 It's not uncommon that a customer will ask me if there is a benefit in choosing one storage protocol over another. It's important to first know what storage infrastructure is currently deployed. If a customer has been deploying Fibre Channel fabrics and has a high comfort level in supporting Fibre Channel storage systems, then it is worth looking at a Fibre Channel storage array. Evaluating the storage fabric is very important when deciding on a storage protocol.
There has been a big push over the years to converge storage over to the IP networks. I've seen this first hand with data centers refreshing the network to 10 Gbps and now 40/100 Gbps. It is financially beneficial to leverage a converged 10 Gbps IP network for storage and compute rather than investing in a separate storage network. The storage protocols that are IP and Ethernet based are iSCSI and FCoE for block storage, as well as NFS and CIFS for file level storage.
The Ethernet network has been gaining faster speeds over the years than Fibre Channel networks. Switches that support the IEEE 802.1 Data Center Bridging (DCB) network technologies provide for lossless data center transport layer that helps enable the convergence of LANs and SANs onto a single unified fabric. I've seen many customers choosing to move their Storage from a traditional Fibre Channel fabric network over to a converged Ethernet network when they refresh their data center network switches.
So back to the question of which storage protocol should oneself choose? My answer is why choose. The multi-protocol storage arrays alleviate the pain of having to pick just one or two supported protocols and allow you to design your storage network to best fit your applications. An array that supports all five of the predominant storage protocols allow you to use for instance a Fibre Channel connection today and leverage a NFS Ethernet connection at the same time. This flexibility allows for investment protection in an ever-changing technology landscape. Too often I see an application that was designed specifically for one storage protocol such as NFS, however the customer's array only supports FC and iSCSI.
Written By: Marshall Hill, LookingPoint, Inc. Solutions Architect