Many companies have invested in VMware infrastructure software and have a lot of knowledge in supporting on-premise virtual servers. The VMware vCenter Server is extremely popular for managing virtual machines and providing automation for distributing resources evenly across a cluster of servers. There is a comfort in having direct vendor support from VMware for ensuring a stable production environment. However, when moving virtual machines to a public cloud can be disruptive to many IT departments. Let alone, the gap in support can increase risk for many Application Support Teams.
The good news is that VMware and AWS are working together to extend the tools and hypervisor that are running within on-premise private data centers to the AWS cloud. Back in October of 2016 the two companies announced, "VMware Cloud on AWS". It's still in Technology Preview which is a vSphere-based cloud service on AWS. This new service is support by VMware as an on-demand, elastically scalable service. Customers will soon be able to extend their current data centers to AWS using native VMware ESXi hypervisor and vCenter management tools. The ease of moving virtual machines between ESXi hosts regardless of physical location (on-premise or AWS) cannot be understated. Plus there is the added support from many application vendors that support their code on a VMware ESXi hypervisor, but aren't yet supporting an AMI virtual machine.
Components of VMware Cloud on AWS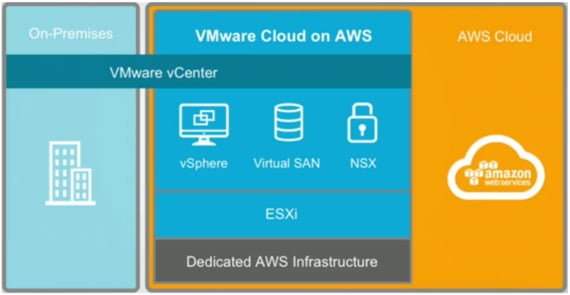 VMware and AWS describe this new service as being powered by VMware Cloud Foundation and AWS Virtual Private Cloud (VPC). It is optimized to run on elastic, bare metal, AWS infrastructure. VMware Cloud on AWS runs directly on AWS Physical Servers installed with ESXi. This allows VMware to run their virtualization stack on AWS infrastructure without having to use nested virtualization. It includes the same core VMware technologies that customers run in their data centers today including vSphere Hypervisor (ESXi), Virtual SAN (vSAN), and the NSX network virtualization.
Hybrid Cloud Architecture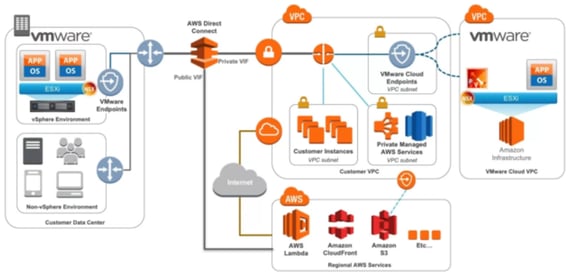 vSphere vMotion to live-migrate individual VMs directly to ESXi host servers running in AWS data centers.
vCenter enhanced linked-mode for single management for a Hybrid cloud deployment.
Elastic scaling, scale capacity up and down by adding or removing ESXi hosts in AWS.
Auto-remediation adds other hosts to the cluster ensuring available host resources remain consistent during an ESXi host outage.
Supported by VMware, the service will be operated, sold and supported by VMware.
No Patching or Upgrades. VMware software and drivers are automatically updated by the service providers (AWS and VMware).
We are hearing that VMware Cloud on AWS will run vSphere 6.5 on the AWS site and that customers running on-premise vSphere 6.0 and 6.5 will be able to link to the AWS service. Customers on earlier version of vSphere will want to start planning their upgrades to take advantage of VMware Cloud on AWS. The current projected release of this service is to be available in the mid-2017 time-frame.
Once available, expect updates and new features to be released about every ninety days. There is real focus from VMware in this AWS partnership now that they have announced the sale of vCloud Air to OVH, a French hosting and cloud company. The usual release cycle for vSphere has traditionally been around 18 months between major releases and six months between minor updates.
These are truly exciting times for Enterprise IT to have a supported VMware strategy to move safely into the largest public cloud provider, AWS.
Written By: Marshall Hill, LookingPoint, Inc. Solutions Architect
References
In the Works – VMware Cloud on AWS (by Jeff Barr | Chief Evangelist for the Amazon Web Services | on October 13, 2016)
https://aws.amazon.com/blogs/aws/in-the-works-vmware-cloud-on-aws/
VMware and Amazon Web Services Announce Strategic Partnership (by Charu Chaubal | Director of Technical Marketing for Cloud at VMware | on October 13, 2016)
https://blogs.vmware.com/vsphere/2016/10/vmware-aws-announce-strategic-partnership.html
VMware Cloud on AWS – A Closer Look (by Frank Denneman | Architect for Cloud at VMware | on October 13, 2016)
https://blogs.vmware.com/vsphere/2016/10/vmware-cloud-on-aws-a-closer-look.html
Currently in Technology Preview, VMware Cloud on AWS
https://aws.amazon.com/vmware/
vCloud Air Sale Clears Deck For VMware's AWS Strategy
http://www.crn.com/news/cloud/300084434/partners-vcloud-air-sale-clears-deck-for-vmwares-aws-strategy.htm