Hello world! Today I will be showing you how to quickly update the connector version on your Cisco endpoints via Cisco Secure Endpoints, formerly know as Cisco AMP. There are two ways to go about this process. We can update multiple clients belonging to the same Group Policy at the same time, OR if you have a single client needing an updated connector version, you can simply locate the download link and install it on that machine. Let's get to work and I'll show you how to get this done!

1. The first thing we want to do is get logged in to our Secure Endpoints dashboard, as you can see in the screenshot. Hover over the "Management" tab, a dropdown menu will appear, in which you will click on Policies.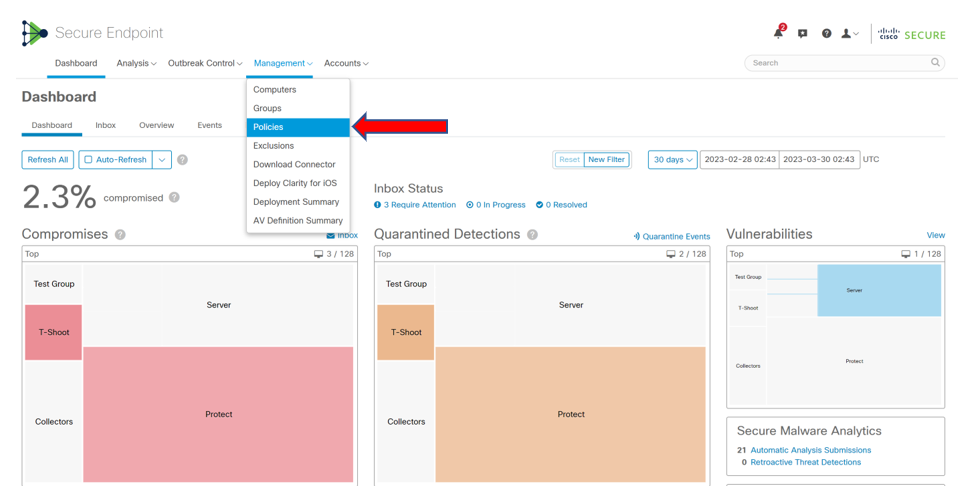 2. Here, we can see a list of all the policies we have created for our different client types, for example, Linux, Apple, Windows. These policies are created for similar client types, which get grouped together into one policy, and rules applied to them.


In this example, we are looking for a Policy named "Protect" for our Windows clients

(Not shown in screenshot).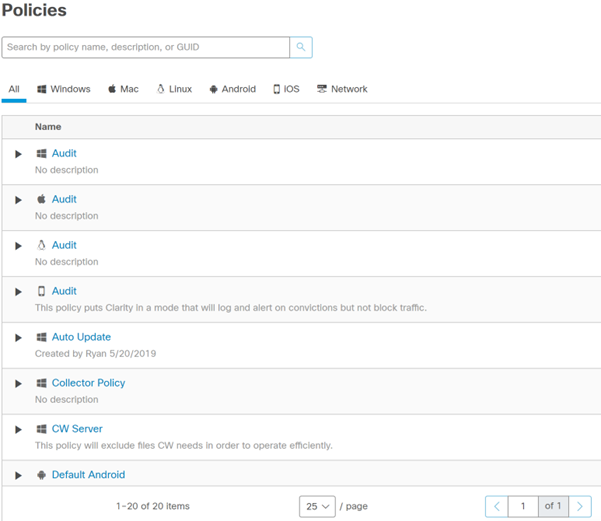 3. After locating the policy, click on it and it will take you to the policy configuration page. As you can see, we have a few options and ways to manipulate this policy if we want to. In our case, we are interested in updating the Secure Endpoints Connector version, so we want to click on "Product updates" on the left pane.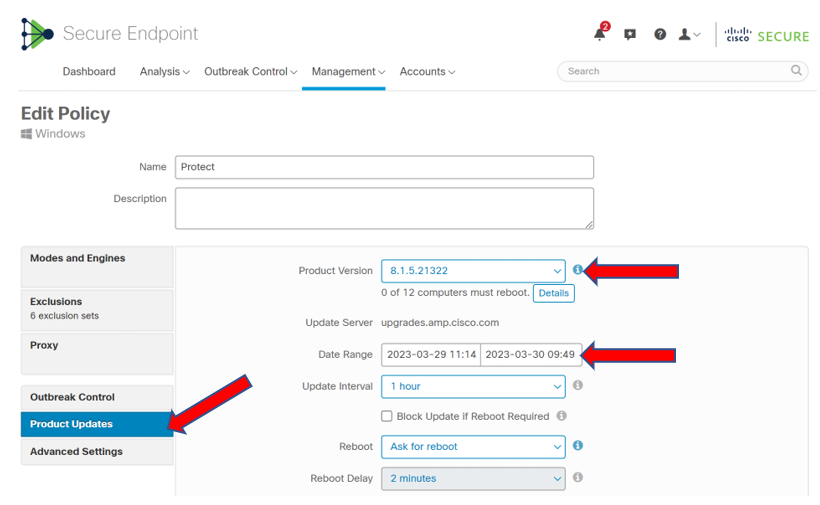 4. Once you click on product updates, there are two key areas we need to focus on in order to set a schedule for when the updates will occur. The first dropdown shows all available versions, with the most current at the very top (v8.1.5).


NOTE: Please make sure to check release notes before installing the newest version. We have run into performance issues in the past and have had to roll back.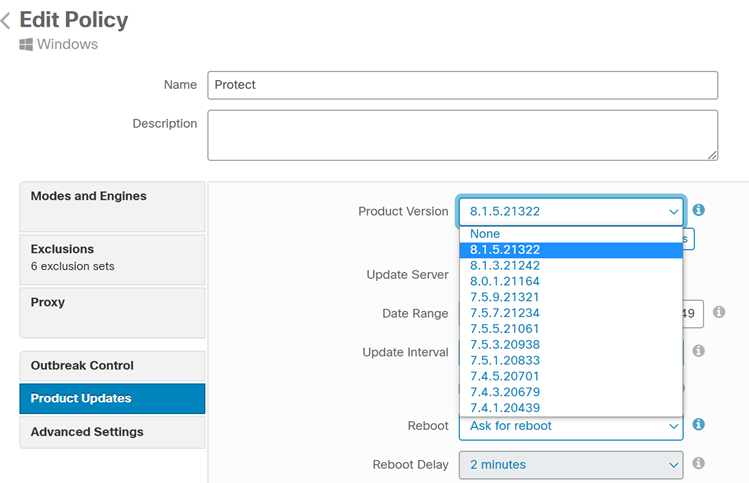 5. The second drop-down, will bring up a calendar, where you can select the date and time you would like to push the update. Here you can choose how many (continuous) days you want the update pushed to your machines. As you can see in the example below, my update is set to push beginning March 29 th and ending March 30 th, at the time specified.


Once you have confirmed the date and time is set correctly, click Apply, and Save at the bottom right corner of the screen.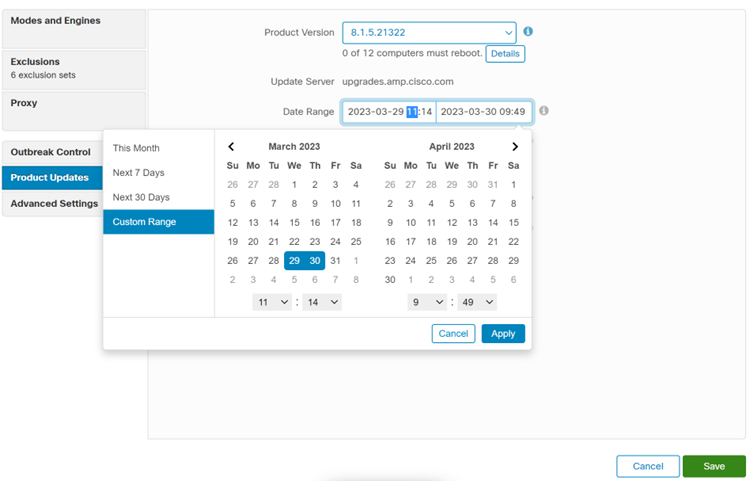 Now for the second way!
1. Log in to the Secure Endpoints dashboard, and locate the Management tab.


2. Expand the Management tab. In the dropdown menu, click "Download Connector".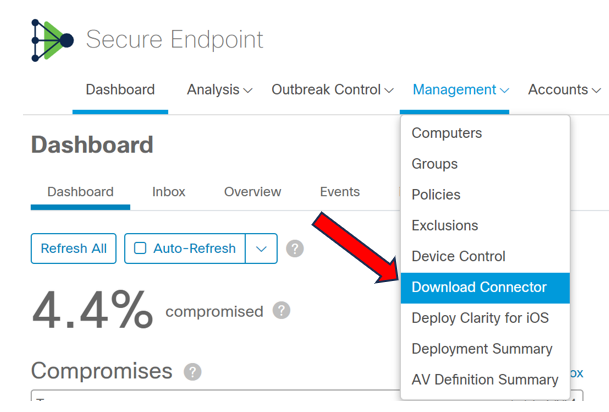 3. This will take you to the downloads page, where you will see a column named "Group". Click "Group" and a dropdown will appear with a list of all the Group policies you have in your environment. Here you will need to choose the group your machine belongs to. In our example, our machine belongs to the group "Protect", so we will click on that option.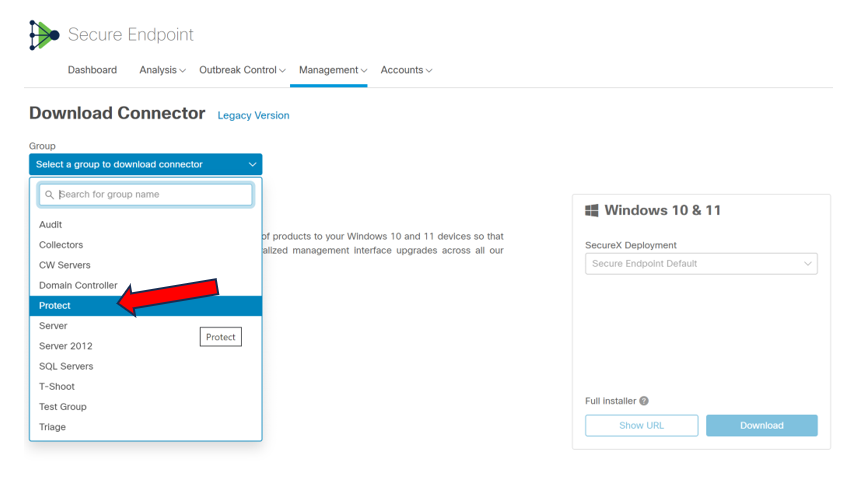 4. You will now see the connector downloads appear for the group policy chosen. The download is available for the type of devices you have in your environment. The most up to date version number of the connector is also shown. Clicking download will download the connector onto your local machine. Clicking "Show URL" will display the URL for the download file, which you can send directly to the user to download, if you desire.

Just like that we are all done! Not too bad right? Nice and easy and it only takes a few minutes to keep your clients secure. I hope you found this article informative and easy to follow along with!
As always, if you have any questions on any IT solutions set up for you and your business and would like to schedule a free consultation with us, please reach out to us at sales@lookingpoint.com and we'll be happy to help!
Thank you!
Written By:
Will Panameno, Network Engineer