Designed for today's IT teams, Catalyst 9200 switches combine programmable ASIC and software innovations to deliver the industry's highest performance and functionality plus breakthrough advancements in security, IoT, mobility and cloud to all enterprise customer sites, regardless of size
Keeping with their vision of intent based networking, Cisco is now working to deliver it in more places.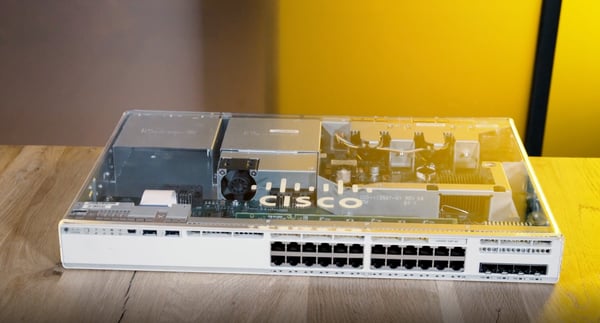 Catalyst 9200 runs the same OS as the rest of the Catalyst 9000 line but is designed for smaller deployments. This new switch gives mid-market businesses access to Cisco's full suite of enterprise services without compromising the security provided in the larger enterprise switches. Catalyst 9200 Series switches focus on offering simplicity without compromise – it is secure, always on and increases IT productivity.
Catalyst 9200 Series switches delivers:
Security
Trustworthy Solutions make the Catalyst 9200 Series switches more secure by recognizing any malicious code added to the box
Provides MACsec-128 on both downlinks and uplinks
Uses the most comprehensive security portfolio by integrating with ISE, Stealthwatch or Stealwatch Cloud, all anchored through Talos research
Always On
Highest Mean Time Between Failure (MTBF), your network will be there when you need it
High availability with FRU redundant power supplies and fans reduces downtime and network failure
Perpetual PoE resiliency provides power to PoE devices even during reboot of the switch
Cold patching keeps the switches up to date and secure without having to reload a new image
IT Simplicity
Cisco IOS XE – Open APIs allows customers to integrate with their own tools and processes
UADP ASIC – Gives customers access to new innovation that may come in the future without having to replace the switch
Full Flexible Netflow for greater network and application visibility (500+ app recognition)
Easy provisioning with 3-click WebUI or DNA Center/SD-Access
Customers who love cost effective full-featured Cisco Catalyst 2960-X switches are bound to love the new Cisco Catalyst 9200 series. The 2960-X switch to the 9200 Series increases availability and simplicity, leveraging a trusted architecture that will help your network run faster and safer. For customers looking for higher bandwidth and uplink capabilities while anticipating future needs their company, the Catalyst 9200 is the perfect solution.
Want to increase your company's through-put? Contact us today to get your Cisco Catalyst 9200!
Also check out our EPIC Unboxing of the Catalyst 9200!
Written By: Bridget Mckenzie, LookingPoint Marketing Specialist