Cisco Live Day 3 comes to an end tonight with Cisco's Customer Appreciation Party at Universal Studios! Today there were some technology releases and product spotlights that we are excited to share with our customers! The first of these being Cisco's new HyperFlex 3.5.
Applications have become the face of any modern business and applications are the new growth strategy of today's businesses. Today's customers are looking to modernize their infrastructure and need solutions that are open and automated. Multi-cloud has become the modern data center and customers are looking to establish a common application blueprint and consistent policy model between their on-premise data center and the public cloud. Enter HyperFlex 3.5, which can be summed up in a few impressive bullet points:
HyperFlex supports the latest and greatest NVMe drives with octane support
Provides support for AI/ML workloads with NVIDIA's most powerful V100 GPUs, also bringing GPU-aware Kupernetes with the Cisco Container Platform
A new to flexible common infrastructure platform to power SAP applications running on HyperFlex
Native disaster recovery improvements including simple to use one-click operations
Intersight Storage Analytics enables real-time monitoring and predictive intelligence from HyperFlex storage, enabling customers to access historical and predictive analytics in Intersight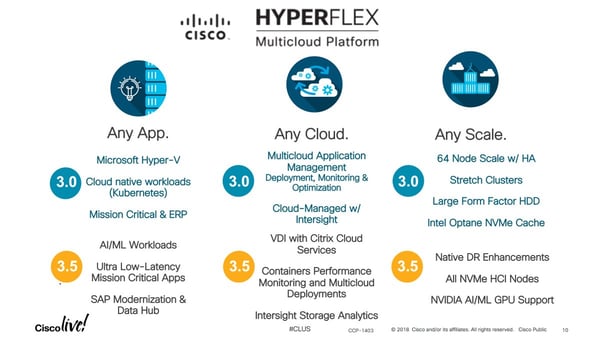 We can't talk HyperFlex without a mention of the new Cisco UCS 4200 series. Cisco's new UCS 4200 Series rack server chassis is 2U and supports 4 server nodes and has 24 front loading SFF drive bays. It also has dual 2400W power supplies, which will provide power for even the most robust configurations. HyperFlex and the UCS 4200 are manageable with Cisco Intersight. Cisco Intersight provides a connected TAC experience, automatically processing diagnostics and attaching them to your TAC case. Machine to machine transmissions of telemetry data decreases time to solve TAC cases sending log including equipment details, change and support history, diagnostics results etc. Intersight also automates firmware updates, providing visibility into out of date firmware and step by step remediation for firmware upgrades.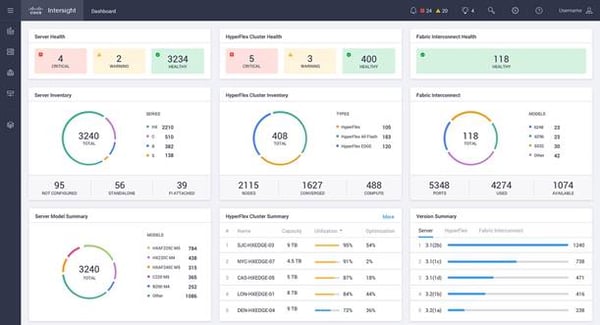 Cisco's new technology is helping customers reduce application infrastructure deployment times from days to minutes!
Gee Rittenhouse, Cisco SVP of Engineering for the Security Business Group, walked attendees through Cisco's security portfolio and how customers can leverage their existing network to detect and stop threats. The new era of digitization brings with it new security challenges. Enterprises are losing visibility as more users are working remotely from multiple different devices and are losing control with shadow IT and DLP as more and more workloads are moved to the cloud. In the past security was focused on the perimeter, but as the network changes and expands beyond the perimeter our security approach must change as well. Cisco Talos blocks 20 Billion threat events and sees 20 million unique pieces of malware every day!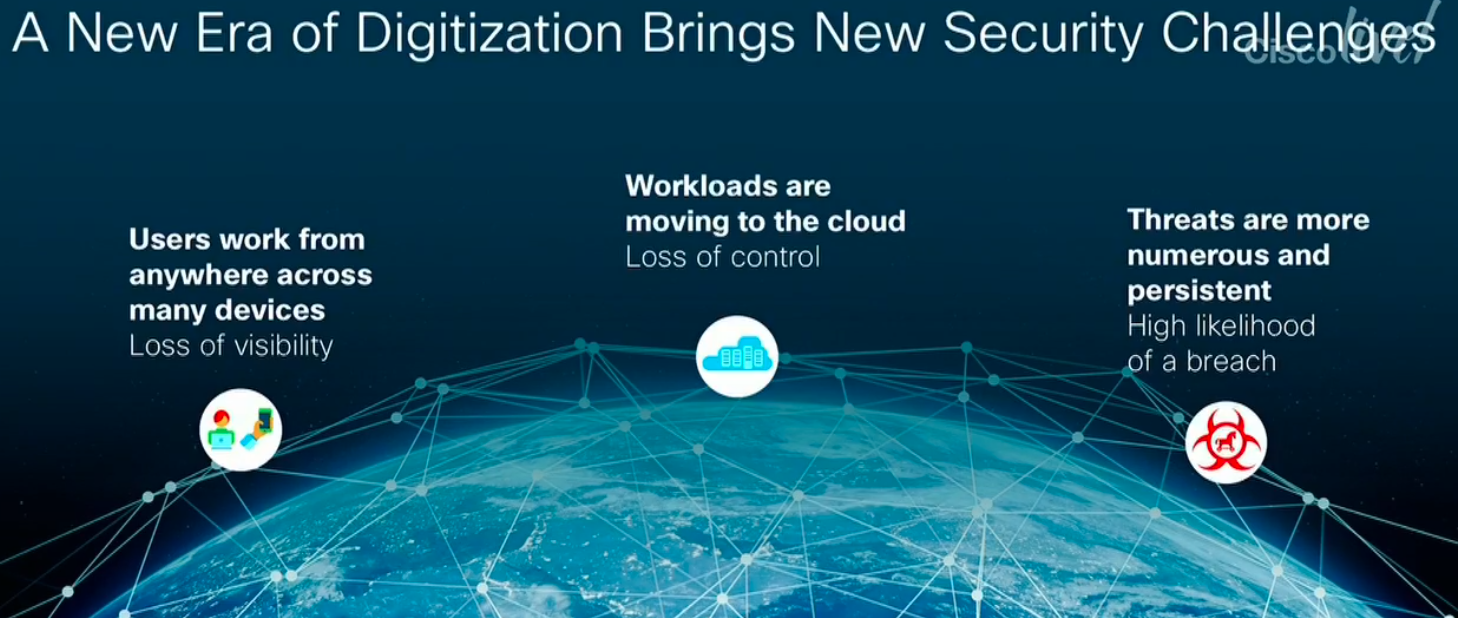 Users view encryption as a security measure, but a majority of organization can't see malware once it's encrypted making encryption a problem from a security operations perspective. With Cisco ETA you are able to leverage visibility and malware detection without decrypting traffic. Leveraging SD-WAN (Meraki, Viptela, etc.) you are able to simply route traffic and take your on-premise security functions and moving them into the cloud.
Todd Nightingale, SVP and GM Meraki shared the recent Meraki innovations and how customers can leverage Meraki's open platform to create exciting digital solutions. The 3 Meraki solutions we are most excited about are:
Meraki Wireless Health: simplify wireless network optimization but automatically identifying issues with network access, user experience when connected and access point optimization. Simplifying the root cause of issues in a single dashboard allows IT teams to proactively manage the network and easily answer complex questions.
Meraki Insight: Meraki's first WAN and application analytics product provides end-to-end visibility into all factors contributing to the end user's network experience, which enables IT teams to focus on the root-causes of end-user frustrations and provide better service.
Meraki MV12 Security Cameras: Meraki's newest security cameras bring advanced analytics to the offering in a sleek and compact design. These cameras place high0-endurance storage locally on the camera and eliminate NVR from the equation.
Tomorrow wraps up Cisco Live 2018 and we are looking forward to what is sure to be an inspirational closing keynote with Amy Webb and Dr. Michio Kaku.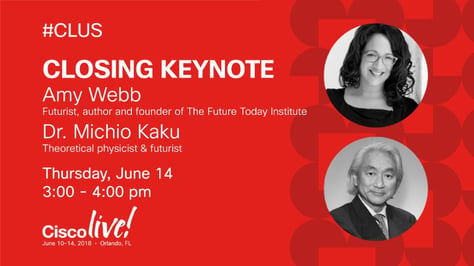 Written By: Eden Reid, LookingPoint Marketing Manager