There are many video solutions in the industry. When deciding on a solution it's important to understand the primary needs for a Collaboration Conference Room. This includes whether the room will be used purely for video and content sharing or if it's more of a multi-purpose room with movable tables. Conference rooms where everyone sits around a table are quite different than a classroom style room where there is a speaker at the front of the room. It's also important to review the user experience with any video / collaboration solution. Many technologies look good on paper, however successful video room deployments are directly tied to the user experience. This includes how easy is it to schedule a meeting, start the meeting, and join the meeting. I've seen this be a complicated process that involves IT for the entire process and I've seen it as easy as placing a FaceTime call from an iPhone. When video rooms have been designed with usability at the top of the list, you will see an increase of collaboration.
First off why would you go with a Room Kit
Video systems have moved from siloed solutions where only other hardware-based systems could join, to an open architecture that allows for remote and mobile connections from a variant of hardware and software-based endpoints. Cisco is one of the few companies that have transitioned and expanded upon the traditional hardware endpoints to allow software-based devices such as computers with webcams, smart phones, as well as audio only phones to all join into the same meeting. Cisco's collaboration business has been on quite a roll releasing new video and collaboration endpoints such as the:
Webex board for electronic whiteboard with video and wireless content sharing
Webex Share for turning any flat panel TV into a collaboration huddle room
Webex Room systems with build-in displays for an all-in-one video solution
Webex Room Kits for turning any flat panel TV info a video conference room
The two most popular video endpoints that my customers have been deploying are the Room Kit and Room Kit Plus devices. The success of these devices can be contributed to powerful video and audio features, ease of use, high quality experience, and a more competitive pricing model. These endpoints have built in (hardware based) codecs and are centrally managed regardless if registered to the cloud or on-premise. The cloud registration process to the Webex Control Hub is so easy that customers can get up and running in just a few minutes.
Many of the competitors only provide software-based solutions which require a small PC or an Apple Mac mini connected to a USB webcam. These do-it-yourself and bring your own device (BYOD) soft-codecs are becoming popular for "Huddle rooms," or small, 3-6 person conference rooms. However, the user experience, lack of a predictable deployment, and video quality issues are some of the concerns regarding this approach.
On the other hand, the Cisco Room Kits offer users some of the best experience with 4K content, automatic framing with speaker tracking, and wireless sharing. Cisco has also been adding intelligence which they have branded Smart rooms. This includes features such as people counting to provide usage metrics and resource allocation reports. These endpoints are powered by the NVIDIA Jetson platform, the same platform many self-driving cars use. That makes sense when you think about how both leverage camera technology with machine learning. Cisco is working on buiding advanced capabilities that include AI, especially when registered to Cisco the Webex Cloud.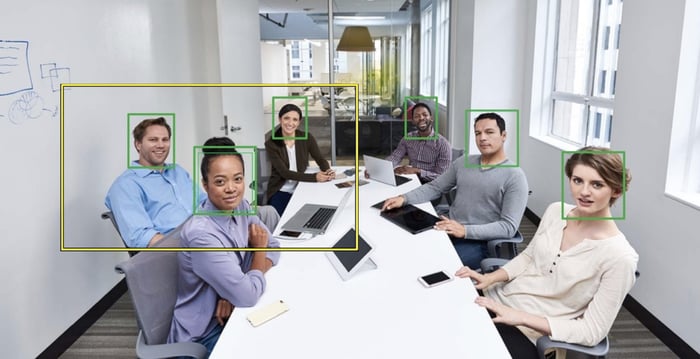 Deciding on a Room Kit Plus vs Room Kit
The room size and number of people in a room are the main determinants if the Room Kit or Room Kit Plus should be used. The Room Kit is designed for small/medium rooms of up to 7 people and is comprised of a camera, speakers and microphone. The Room Kit Plus is for larger rooms of up to 14 people and includes a separate quad camera bar with four individual cameras for a better experience in larger and deeper rooms. Both are designed to attach to a standard HD screen and transform the display into a video collaboration system.

The room kit was designed to be mounted above one or two TV's. This works well in smaller rooms where the TV's are mounted low, usually starting at a few inches above table height. For larger rooms the TV's are mounted a bit higher so that people in the back of the room can still see the full TV display without the people in front obstructing their view. Also, the Room Kit Plus is usually a better fit for these larger rooms and the camera is more often mounted below the TV displays.

Another excellent feature is the integration through HDMI Consumer Electronics Control (CEC) 2.0. The Room Kit will automatically detect if the active video input has been switched to another input on the display and set it back to the video system input source. This is a great convenience and alleviates the need to fumble with the TV remote. The CEC integration also will activate the TV if in standby when the video unit is being used.
One of the better sites to get room design ideas is Project Workplace:
https://projectworkplace.cisco.com/#/en-us/scenario
Cloud or On-Premise Registration
The Room Kit and Room Kit Plus can register to the Cisco Control Hub (cloud registered), to Cisco Unified Communication Manager (on-premise registered), and to Cisco Video Communication Server (VCS, also on-premise registration).
Customer that have an existing Cisco phone system such as the Cisco Unified Collaboration Manager (CUCM) can easily register a Rook Kit video endpoint similar to registering a Cisco IP Phone. Registering the video endpoint to CUCM provides users with a unified address book. It is possible to give a Room Kit a phone extension as well as a DID 10-digit phone number enabling the video endpoint to also be used as a conference phone.
It would be easy to think that you'd register the Room Kit on-premise if you have CUCM and to the Webex cloud if you did NOT have CUCM. However, I've seen a push from customers to move to cloud registration even if they already have CUCM. I believe there are several reasons for this transition.
First, we see customers with a cloud first initiative wanting to move as much as possible to the cloud. Second, there are additional backend system infrastructure needed to securely connect video calls to and from the public internet. The core components for secure traversal are the Cisco Expressway Core and Edge servers. If a customer doesn't already have Expressway servers deployed in their environment, they may opt to register to the Webex cloud instead. Third, but definitely not the last reason is that Cisco has provided great value when registering to the cloud. Cloud registration is extremally easy, you can use Hybrid services to connect back to your on-premise CUCM systems, and Cisco provides the scalability, reliability, and support for the Webex cloud infrastructure.
To help illistrate the ease of onboarding a Room Kit to the Cisco Control Hub (cloud registration), here are the steps:
Add a new Place from the Cisco Control Hub
Enter the Activation Code that was auto generated into the Room Kit
That it. Just 2 steps in under 60 seconds and you have a working video Room Kit. The title of this blog should be as easy as 1, 2.
TV's, Audio Systems, and everything else when building a Collaboration Room
Cisco Compatible Displays by LGE
Cisco has made a partnership with LG Electronics for their commercial TV displays. They offer a range of 4K display sizes from 49-inches to 98-inches. While other TV displays from other manufactures will work, the LG Professional UHD displays have been developed with Cisco to improve the meeting experience. With the Cisco/LGE integration, display parameters are optimized for Cisco video devices through the automated installation. Resolution, frame rate, colors, and white balance are all tuned for a vivid, sensory experience.
https://www.lg.com/us/business/commercial-display/certifications/cisco-compatible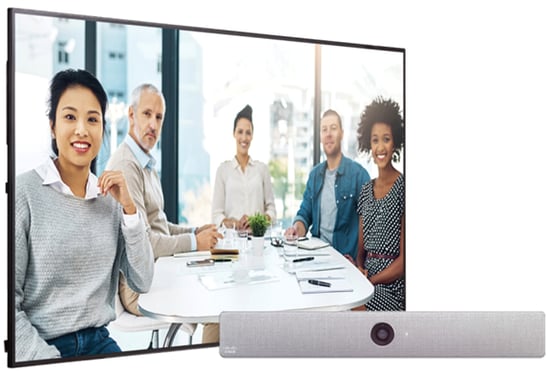 Typically, the optimal viewing distance for video and normal content is one to four times the diagonal of the screen. Examples:
| | | |
| --- | --- | --- |
| Screen Size | Minimum viewing distance | Maximum viewing distance |
| 55-inch diagonal | 4-feet 7-inches | 18-feet 4-inches |
| 65-inch diagonal | 5-feet 5-inches | 21-feet 8-inches |
| 70-inch diagonal | 5-feet 10-inches | 23-feet 4-inches |
| 75-inch diagonal | 6-feet 3-inches | 25-feet |
| 86-inch diagonal | 7-feet 2-inches | 28-feet 8-inches |
| 96-inch diagonal | 8-feet | 32-feet |
Note: to optimally view more detailed content, such as graphics or spreadsheets, reduce the maximum viewing distance.
Additional considerations:
Displays should have High-Definition Multimedia Interface Consumer Electronics Control (HDMI-CEC) support so the codec is able to turn on the display when resuming from standby.
Use displays with lower delay to increase the naturalness of communication. Delay through most displays is often very high (>100 ms) and is therefore detrimental to real-time communication quality. In some cases, activation of "Game" or "PC" mode, deactivation of motion smoothing and/or changing to a different HDMI input can reduce the delay.
Microphones for Room Kit and Room Kit Plus
The Cisco Room Kit has a built-in microphone which works good in small rooms. For medium and larger rooms, it is recommended to include external microphones. The Room Kit supports up to two external microphones while the Room Kit Plus supports up to three external microphones. The Cisco table microphones are the most popular where the conference table doesn't move and there is a wiring conduit. However, if running a wire from the Room Kit to a table microphone is not feasible and or there is a desire not to clutter on the table with microphones, then the Cisco ceiling microphone is usually a good choice. The other ceiling microphone solution that is less obtrusive and works nicely with the Room Kit systems are the ClearOne ceiling microphone array.
Cisco Table Mic
4-pin mini jack

Cisco TelePresence Ceiling Microphone
4-pin Euroblock or 4-pin mini jack depending on the video endpoint

ClearOne Ceiling Microphone Array
Three, wide-range microphones in each unit provide full, 360-degree audio pickup for medium to large conference rooms. Individual microphones in each array utilize ClearOne's powerful, auto-mixer features for exceptional audio.
The Cisco Room Kit and Room Kit Plus uses a 3.5 mm mini-jack with a 4-pin design.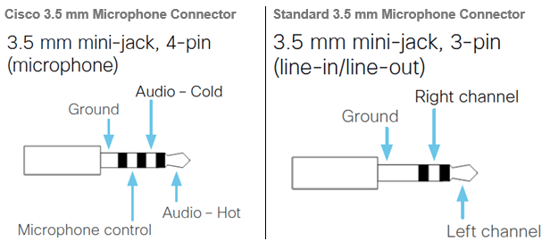 Room Lighting Considerations
Video endpoints are sensitive to high contrast levels in the room. Insufficient light on people's faces is a common problem. It is important to provide good light coverage, consider around 4000 kelvin as well as a color-rendering index (CRI) of 80 or better. Also, avoid mixing technologies such as fluorescents and LED because their color profiles differ.
Neutral gray colors on walls and tables improve color appearance. Avoid completely white walls or tables, a color with refection value (LRV) of 50 percent is recommended.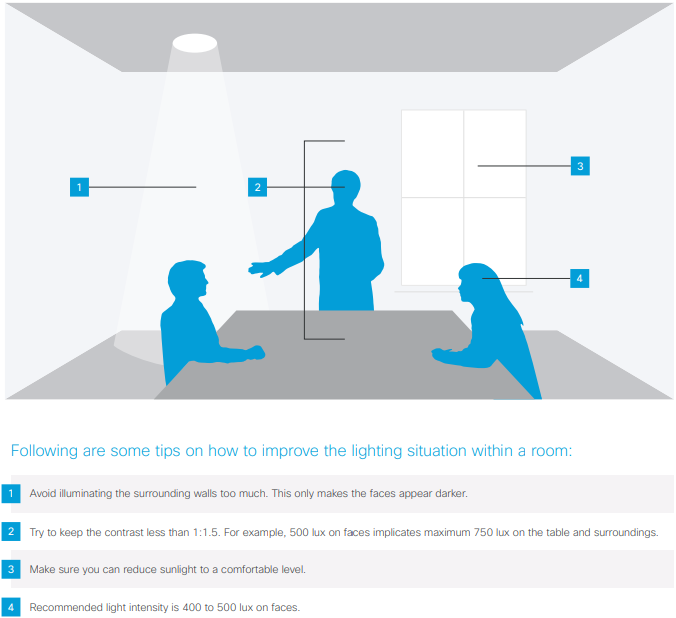 Room Acoustics Considerations
Meeting room acoustics are important to ensure people can be heard and understand. The surfaces of a room play a big part in the quality of the sound heard. Speech is most easily understood in rooms that reduce the reflection of sound off multiple surfaces that causes reverberation.
Sound absorption products trap the noise bouncing around your conference room and prevent it from creating echoes and reverberations that make speech difficult to hear and understand.
Here are a few sound absorption solutions that can be used to improve meeting room acoustics:
Acoustical ceiling tile/panel. Acoustical ceiling tiles and panels are one of the most popular sound absorbing solutions.
Acoustic wall panels. These panels can be decorative and can be covered with a number of fabrics.
Summary
In closing, the Room Kit and Room Kit Plus video endpoints are some of the best I've used in the industry. People expect a video experience that is simple, reliable, and of high quality. These new Cisco Room Kit devices with One-Button-to-Push (OBTP) and Cloud registration to Webex deliver on this user experience. In video, seeing is believing. If you get an opportunity to see these Room Kit's in action, you won't be disappointed.
Written By: Marshall Hill, LookingPoint Solutions Architect
If you are interested in installing a Cisco Room Kit, feel free to reach out to us!