Cisco Live 2016 has come to a close and the LookingPoint engineers who attended are feeling excited and inspired by all they learned in Las Vegas last week. They have shared with us their favorite takeaways from CLUS 2016 and we want to share them with you!
CLUS 2016 kicked off with the Welcome Keynote speaker, Cisco CEO, Chuck Robbins. He kicked off the keynote with mention of technology as a strategic differentiator. His discussion of digital transformation caught the attention of conference attendees, set the tone for the week, and was widely mentioned on social media:

Wednesday's Innovation Talk with Zorawar Biri Singh focused on Cloud Services, and "[addressed] how Cisco is helping both customers and partners build, consume and deliver cloud-based solutions".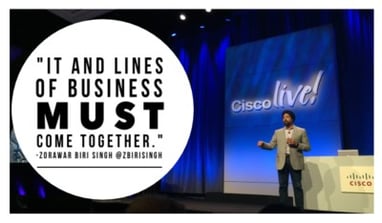 This discussion followed the "digital transformation" theme set by Chuck Robbins and gave insight to the cloud based Next-Gen Data Center.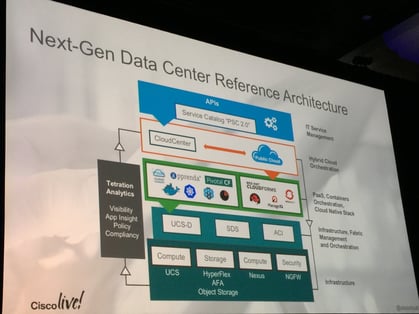 When they weren't listening to the wonderful conference speakers our engineers were spending most of their time in the CiscoLive DevNet Zone. The DevNet Zone was an area committed to developers learning, coding and resources.
"Cisco Live DevNet Zone was larger and more popular than ever this year. Cisco has done a fantastic job in providing a learning environment for partners and customers alike at https://developer.cisco.com. Learning how to interact with and consume RESTful web services to create unique customer outcomes will be a key skill for integrations with Cloud applications and the Internet of Things in the years to come. Spending time at the DevNet Zone also showed me that Cisco is more focused than ever on partner and customer enablement in industry driven, open standards technology skill sets rather than the product specific, proprietary technologies we've seen in the past." – Dominic Zeni
Some of the LookingPoint team's favorite releases at Cisco Live this year were:
Apple iOS 10 integration with Cisco
Cisco Defense Orchestrator: a cloud based security policy orchestration
Cisco Stealthwatch: Cisco cyber threat defense solution and branch network security
Cisco Hyperflex: hyperconverged infrastructure that combines computing, storage, and networking
Cisco Nexus Fabric Manager: a point-and-click web interface for building and managing date center fabric lifecycle
Cisco Umbrella Roaming: off-network protection to the Cisco NGFW
Cisco Spark Video SDK: beta rollout summer 2016
Cisco Digital Network Architecture (DNA): network security providing cloud service management, automation, analytics, and virtualization
Cisco's New Digital Assistant, Monica: a digital assistant who functions within Cisco Spark
One of our engineers is excited to hear more about Monica in the coming weeks! Another of our engineers is raving about Cisco DNA:
"Cisco introduced their Digital Network Architecture and has really proven how serious they are about the software defined network! The heart of this is the APIC-EM application, also known as the DNA controller, can directly interface with all the physical and virtual networking devices on your network. Applications such as Prime Infrastructure, Enterprise Service Automation (ESA) and even Call Manager can communicate with APIC-EM through the northbound API's to achieve some pretty awesome things.
They even announced their own Hypervisor, NFVIS, that would allow you to run virtual instances of routers, firewalls, WAN accelerators, and wireless controllers without racks of hardware or costly hypervisor licensing. The slick interface is all drag and drop and makes it incredibly easy to deploy flexible branch office networks. SDN really is here to stay and is becoming incredibly viable for the SMB!" – Lee Jolly
The week concluded with a noteworthy final keynote from actor Kevin Spacey. Spacey's encouragement for us all to be risk takers and profound advice resonated not only with attendees, but with all who were plugged in via media outlets – see the video linked below.
"We should all be in a battle against mediocrity. In the end it is the risk takers that are rewarded"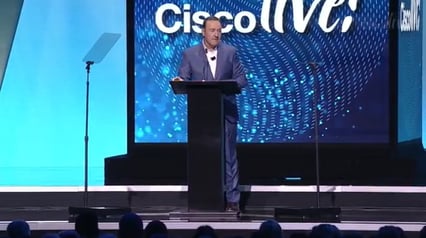 This year Cisco Live provided ideas, insight, innovation, and inspiration. Our team came back more knowledgeable, recharged and inspired to incorporate all they learned over the week to provide the best possible experience for our customers!