Technology is constantly innovating and advancing and has become and integral part of any business' success. Today's workforce is becoming more mobile, and that makes simple, effective collaboration more important for today's business than ever before. At LookingPoint we have almost a decade of experience designing and deploying different collaboration rooms. Our experience has taught us that every room is different and can fill different business needs. We have multiple collaboration rooms throughout our office and in this blog are sharing our experience upgrading one of those spaces. We decided to upgrade the room because new technology has evolved to provide additional features and capabilities since we originally deployed this particular collaboration room.
The room we upgraded is designed to host 10-12 meeting participants. We have two 85" 4K TV displays mounted side by side on the front wall of the room that were connected to an end of live video conferencing solution. The room was leveraging an automation system to turn on the TVs, set the HDMI inputs, turn on the amps, and set the audio volume. Because of this integrated solution, our experience was good however occasionally the automation system would not properly activate all components, creating an inconsistent experience for meeting participants in the room.
With this collaboration room upgrade, we were looking to improve the audio experience for meeting participants in the room and to deploy a solution that is reliable and easy to use. Additionally, we deployed an updated solution to provide additional functionality, specifically bringing remote participants into the room to experience presenter content as if they are in the room.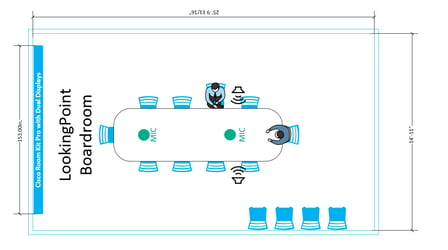 Before starting any collaboration room project like this, it's essential to understand what components are staying, what components are being replaced, and how the work is going to be accomplished (i.e. labor). Once this work is determined, you need to build a project plan that captures the required time to complete the room. Make sure you take into consideration the following when building your project plan:
Evaluate cabling requirements
HDMI

Specifically, we need HDMI 2.0 cables for modern collaboration systems (to support 4K and future capabilities)
Note: make sure to check HDMI from camera to codec, codec to TV, and table connectivity to the codec

Mic cables
Speaker cables
Power for cameras, codecs and amps

We would recommend power conditioning to ensure audio quality is not impacted by bad power
Evaluate lighting
Video endpoints are sensitive to high contrast levels in the room. It is important to provide good light coverage and to balance natural light with ceiling light. The goal of lighting evaluation is to provide the best possible experience to remote meeting participants. If you're building out without the best lighting, this is a great opportunity to rearrange the orientation of the room to optimize lighting.
Evaluate camera placement
Cameras are generally located on or near screens and you want to ensure your participants are able to comfortably look at them as if they are "facing" remoter meeting attendees. A poorly placed screen and/or camera can lead to uncomfortable attendees and/or awkward camera shots. Typically, the optimal viewing distance for video and normal content is one to four times the diagonal of the screen. This is important to consider as you determine placement of your cameras. If you are deploying a presenter camera, you want to ensure your presenter isn't in shadow or looking into a glare as they present.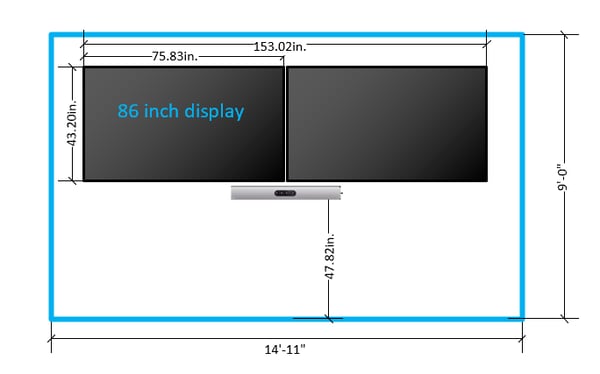 Evaluate screens
You want to ensure your TV screens support 4K and High-Definition Multimedia Interface Consumer Electronics Control. It's also a good idea to use displays with lower delay to increase the natural feeling of in-person communication.
Evaluate audio reinforcement and mics
When evaluating microphone types and placement consider the purpose of the room, the number of participants utilizing the room, as well as the acoustics of the room. You want to place your microphones in a way that will prevent echoes and will make it easy for all meeting participants to hear and understand each other. Desk microphones are common for moderate sized collaboration rooms with an unmoving table and ceiling microphones are more coming for larger rooms and rooms that have multiple purposes.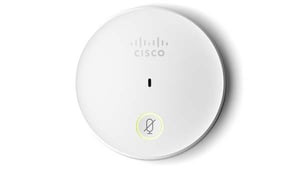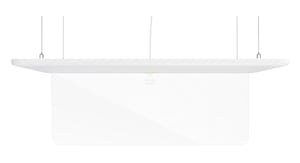 Speaker placement/ audio reinforcement
Not all collaboration rooms will require audio reinforcement. It is important to consider what speaker placement will help to enhance audio experience for all participants in the room. If you have a speaker at the front of a larger room you may want to consider adding in an additional speaker towards the back of the room for those sitting further away from the front.
Based on all of these considerations, you will need to block out the room to conduct the work. Make sure you block out adequate time to complete the project without impacting the business.
With the purpose of this upgrade being better end-user experience and additional functionality, we deployed a system that would support our existing 4K displays. This included upgrading our HDMI cabling to HDMI 2.0. We replaced the existing camera array at the front of the room and added an additional camera in the back of the room to be used for presenter tracking (helping to allow remote participants to experience presenter content as if they are in the room). All cameras were upgraded to 5K cameras with digital cropping to deliver speaker, and presenter, track capabilities. To improve to audio experience for meeting participants, we installed integrated microphones into the table, new sealed ceiling speakers to enhance audio performance for meeting participants in the "back of the room", as well as a new sub-woofer to enhance the audio experience when playing music or other media content. Finally, we removed the automation system to simplify the room and improve reliability, and installed a new integrated amplified to simplify audio operation.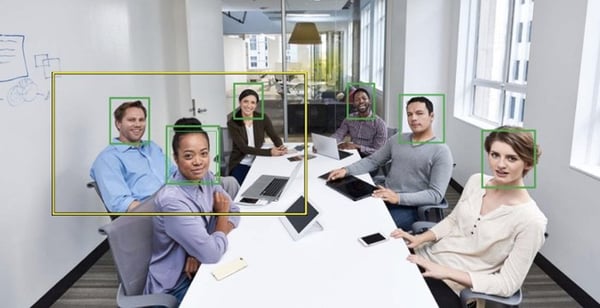 As we went through this upgrade, we came across a few "gotchas" that created delays and required additional effort. Most of these things fall under the considerations we mentioned when building a project plan, but were not detailed above. We hope sharing these will help save you time on your future collaboration projects.
HDMI cables
Some manufacturers state they can support 4K however we have found if the cable is not HDMI 2.0 cable the performance can vary
4K display
Some commercial grade displays do not support CEC and if you plan to deploy a collaboration system that leverages this to manage the power state of a TV, your TVs will not power on and off giving the end-user a negatively impacted experience
New microphone pinout
Some of the modern microphones may require rewiring of existing extensions or potentially pulling new wiring completely
Installing mics into the table
Typically, you will need a contractor to drill into your tables to support the microphones, so scheduling this work is important to build into your project plan.
Typically suggested only for rooms where the furniture does not move
Audio reinforcement
Ensure you deploy an AMP that can integrate with your video system so that audio reinforcement is automatically enabled as the room is being used.
All in all, this upgrade was fairly straight forward collaboration room upgrade. With the upgraded capabilities we now have confidence that our meetings will run seamlessly and will provide the best possible user experience to all on-site and remote meeting participants. Regardless of if you're upgrading an existing collaboration room or deploying a new one, the professionals at LookingPoint have the skill and equipment to deploy a state-of-the-art conference room that will best suit your business needs.
Written By: Eden Reid, LookingPoint Marketing Manager