Today we're talking about our in-house developed tool called, Acela helps you with asset management, device configuration compliance as well as smartnet and support, to help you manage all of that in one easy platform. In this blog, we are going to go through the features and capabilities and take a quick look at what the portal actually looks like.
What is Acela?
Acela is asset management, lifecycle administration and real-time intelligence, and it also provides configuration compliance.
What can Acela do?
Inventory management
Real-time telemetry
Manage support and maintenance contracts
Asset correlation
Customized reporting
Predictive search to simplify asset management
Now we're going to go through those features in detail to show you how they work.
Inventory Management
Inventory management, just think of it as having many devices on your network, Acela is going to then integrate with your monitoring tool. If you have SolarWinds or LogicMonitor, either one of those can provide a direct integration into Acela, meaning if your inventory is in one of those tools they're going to show up in Acela. Acela is going to take those devices serial number information, send that out to a manufacturer, like Cisco, to get information like recommended IOS if the device is supported from a configuration standpoint. If the device is end of life or end of support, all of those things will be correlated together into Acela to make it easy and simple for you to manage those network devices.
Acela works by integrating with your on-premise monitoring tool, so whether or not you have SolarWinds or LogicMonitor, Acela will take in that information through API's and bring it into our database. From there, Acela is going to work with the manufacturer's API's to get relevant data about that device. It then brings all of these data sources together to provide one simple, easy view so you know how to manage your SmartNet, support coverage, recommended iOS, search device configurations, and apply configuration best practice to all of your devices through policy.
Let's get into the demo so you can see it firsthand. To login I will have to input my username and password. Then it's going ask me for two-factor authentication.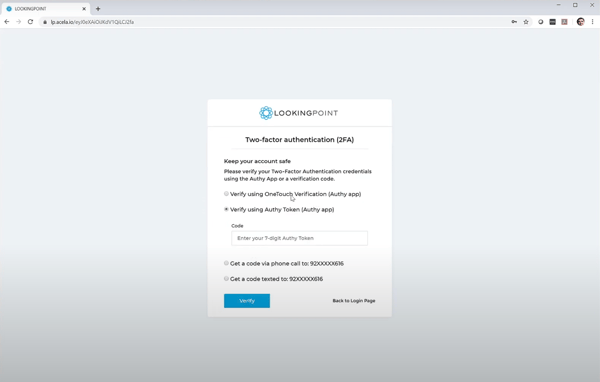 Once I have logged in, it's going take me into the tool. On the left side you're gonna see all of our navigation. Side note: this is the view for LookingPoint internally so you'll have a slightly different view.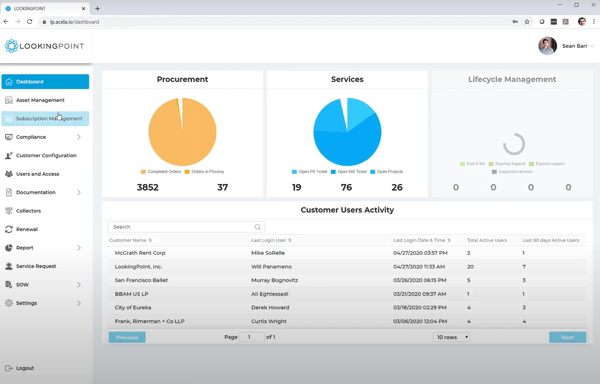 Now going into Asset Management, I can see all of my devices.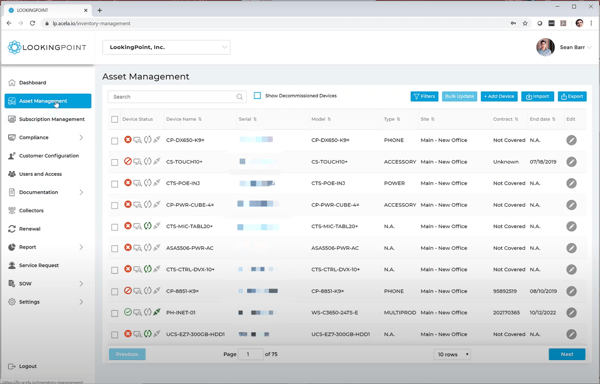 If I click on filters, I can filter this by managed devices.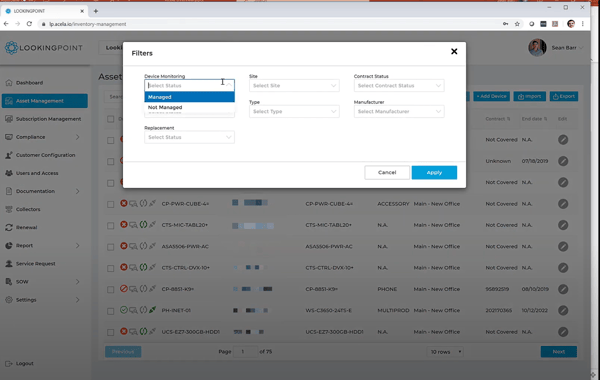 I can filter by a particular site.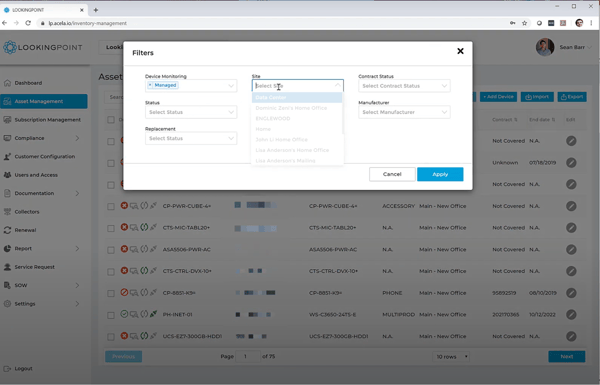 I could filter by a contract status, meaning is it active, is it expiring, is it expired, or is it not covered.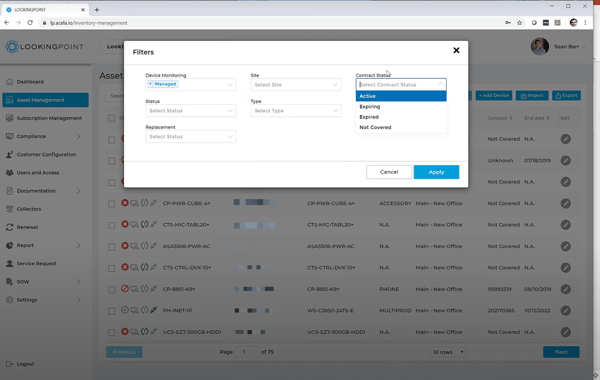 I could also look for things that are active, inactive, or operating without support.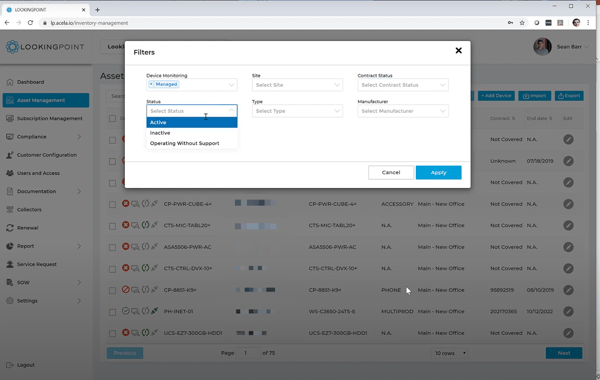 I could search all the type of devices like routers, switches, firewalls. With any of these searches you can add multiple search items. For an example I could add routers, switches, and firewalls all in one search.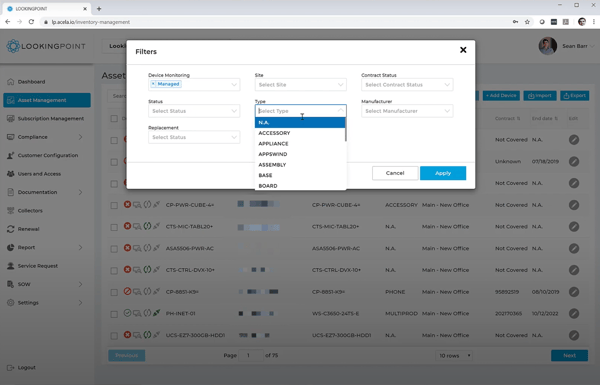 In my filter search, I could add multiple sites or a single site, I could say monitor or not monitored, and I could do multiple contract statuses. As an example, I'm going to go ahead and click manage devices, so it's going to give me all the devices that are managed. It's going to give me a friendly hostname, the serial number, the type of device it is, the type if it can pull it from the API, the site that it's located at, the contract number, and the contract end date.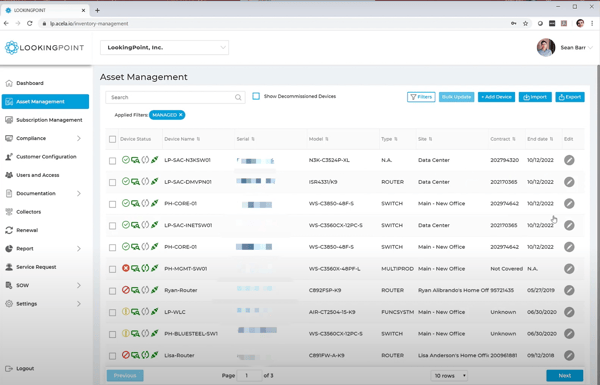 As an example I could have Acela show me the devices that are on the network, so that means managed, and also expiring their SmartNet support. I could do that by just simply clicking the filters button and go contracts status, expiring and hit apply.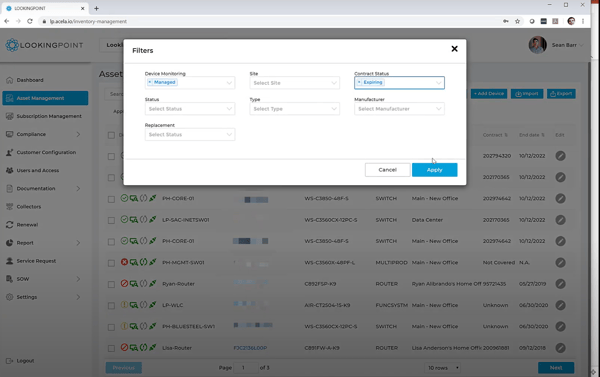 It's going to show me the three devices that are expiring support and I could see over here what the end date of that support coverage is.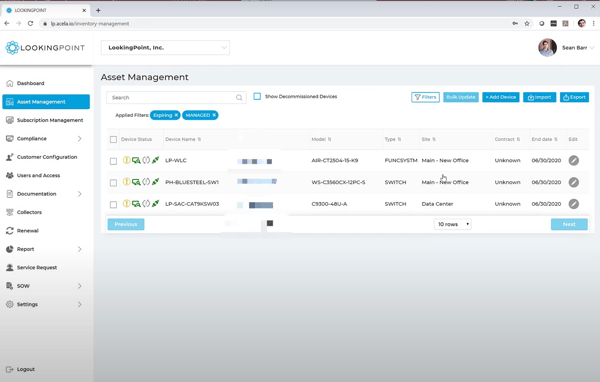 From a different search, I could also go, "I don't care about contract status but I care if there's a replacement available". This would be a good feature to look at if I want to do a network refresh, and I want to highlight the devices that are most important for me to refresh, so I'm going to click apply.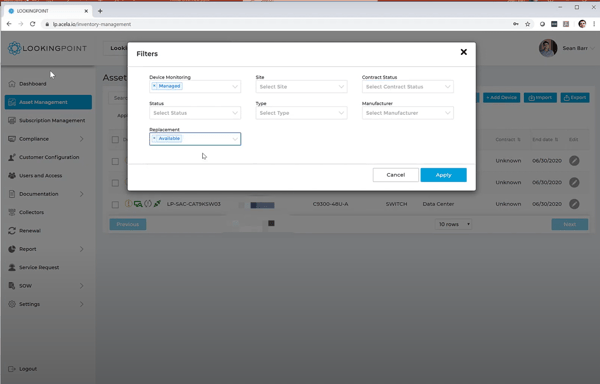 It's going to show if there is replacement available with this icon here saying "replacement available."
It's also going to show the coverage status of these devices such as:

not covered

expired

active
For this example, I'm gonna click on the C2911 model.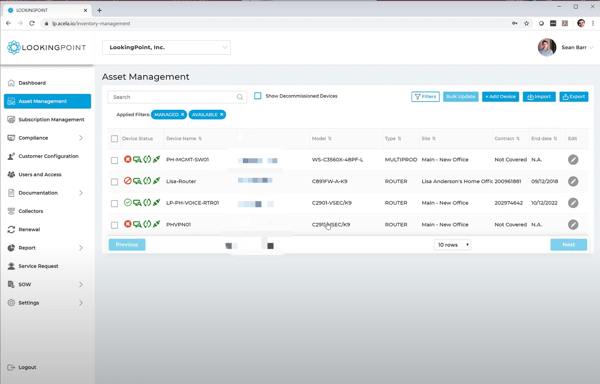 It's going to show me more details about it below.
Now if I look at this migration info and expand that, it's going to tell me that for a 2911 the recommended replacement is a 4331.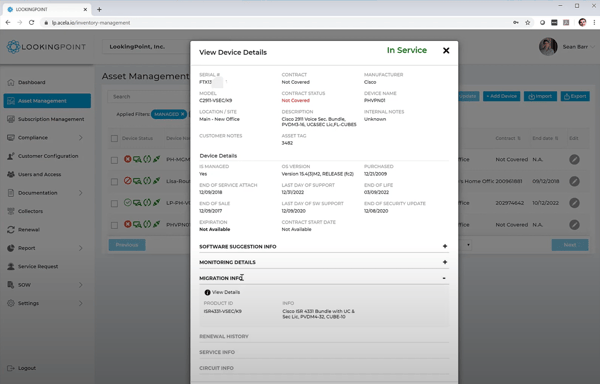 If I want to drill into that, I could click "view details" and it would take me to the Cisco announcement website. The site will talk about the 2911 being an end-of-life device or that it's announced end-of-life and it has a replacement of a 4331.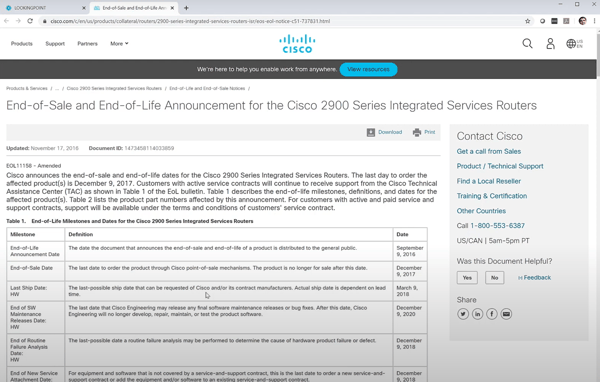 If I want to get things about IP address and things of that nature, I could do that from the monitoring details screen.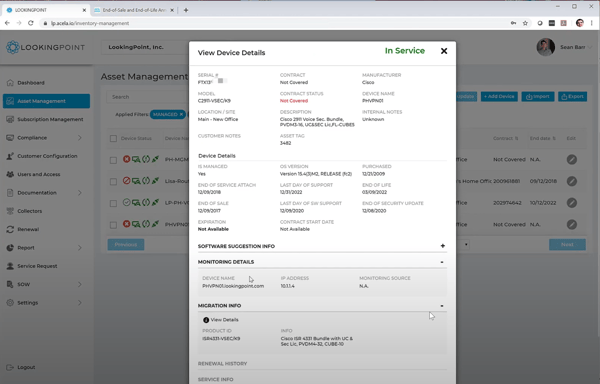 From a software suggestion perspective, I can see what version is running on the actual device and I can also see what Cisco recommends as a recommended version. If I want to get more details, we have a report that you could pull all of your devices. It gives you a simple easy way to look at what you're running on your devices and what's recommended so you can make better informed decisions.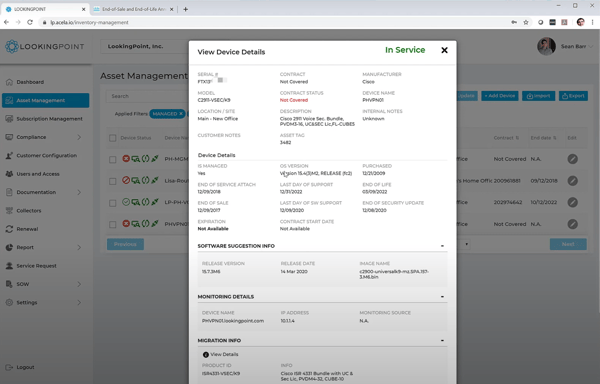 This is another way to search in Asset Management, start typing an IP address, and it's going to search all of the information in the database. It's going to start to list out all the devices with 10.1.10 as the IP address through the monitoring information.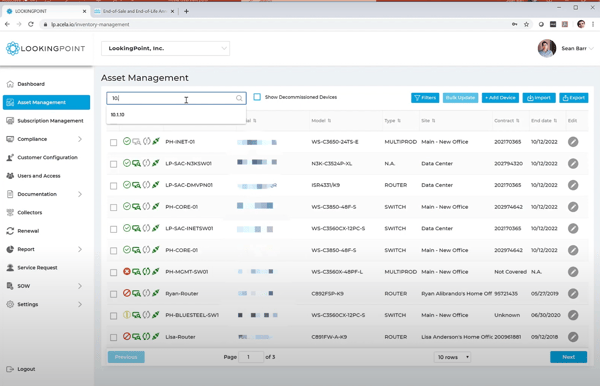 I can get all the information about it's renewal history, monitoring details, software suggestions, and any of the EOX dates. The EOX dates provide things like end of sale, the purchase date, the last date of support, and if it's available it will give it to you in a tool.

Configuration Compliance
We're going to talk about configuration compliance. For configuration compliance we're going to build rules of your configurations. If you had standard things like we always want to have an ACL on this VTY line, we could build a rule that searches for that. Another example, if we said we want to have a rule that says all passwords are service password encryption, we can set up a rule for that. All of these rules have violation levels and so you can set three levels of violations. You could come into the tool and see which devices are in compliance and which ones aren't. Furthermore it's going to tell you what configuration isn't compliant so you can go resolve those issues and it does this in real time.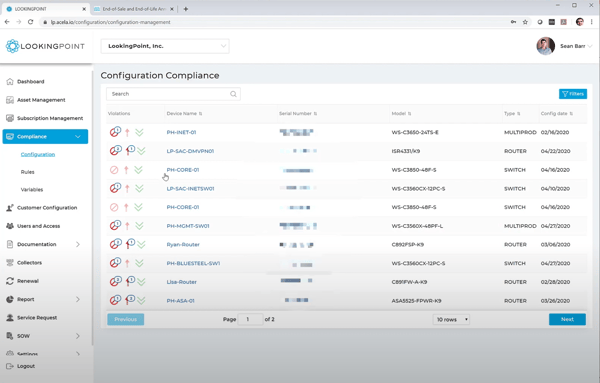 Let's take a look at this DMVPN router which we can see that it has two high priorities and one medium priority, and no low priorities.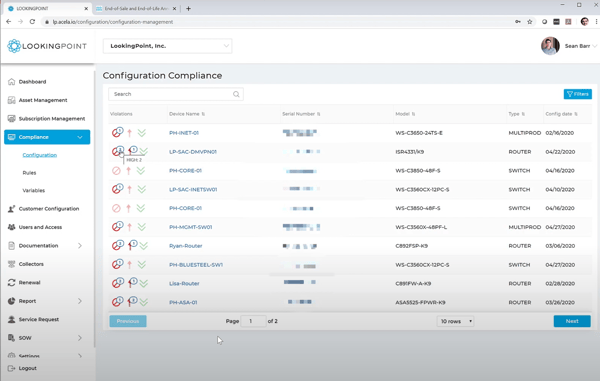 Let's click into that router. Once you click in, you see the configuration and you have the ability to search the configuration here, so if I just type VTY it's going to highlight on the left here all the VTY lines.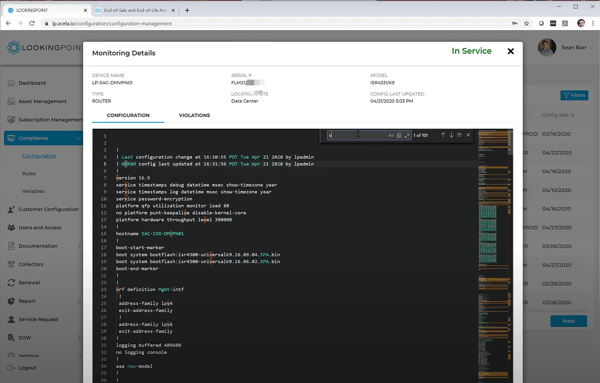 It's going to give me a little indicator here on the right where the VTY lines are at. Now if I wanted to go to that point in the code, I can just click here and it gives me the location so I can hover with my mouse and click in that area. You can also see these little yellow lines on the right-hand side, so I could just click here and it shows me where those have been matched to my VTY search.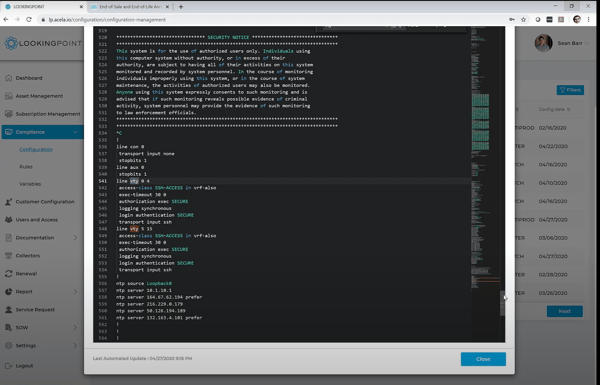 Within my Monitoring Details, I've got configuration, and violations as my two tabs.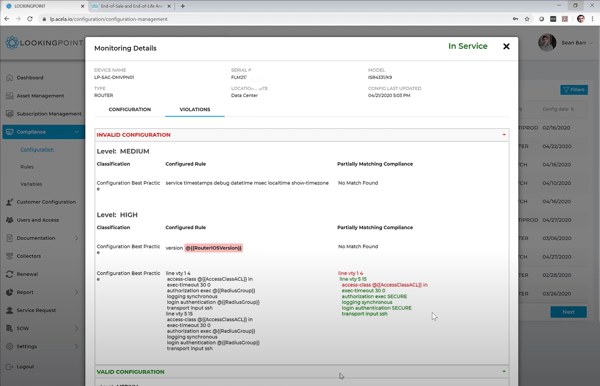 Let's look at the violations tab. On the violations side, we can see what stuff was valid from a valid configuration best practice, and see that service password encryption is turned on. So that valid configuration is good to go, no issue there.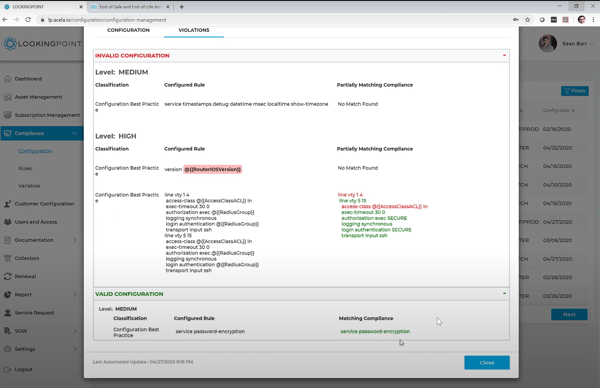 For fun, let's look at something that isn't correct. Now we can see we have our best practice line VTY 1 through 4, line VTY 5 through 15. And the tool is saying I partially match this, it looks like the access list ACL doesn't exist in both line VTY 5 through 15 and 1 through 4. Now what I imagine, it's 0 through 4 on this device and so we can go validate that. Which means the ACL is probably missing on this device, so in this case we would go into the configuration, add the ACLs. This would be a security violation, so that's why it's probably high and Acela would enable you to see this in real time and fix those errors before you have a vulnerability in your environment.

Let's take a look at the configuration and I'm going to search by VTY now and you can see ACL line VTY 0 through 4.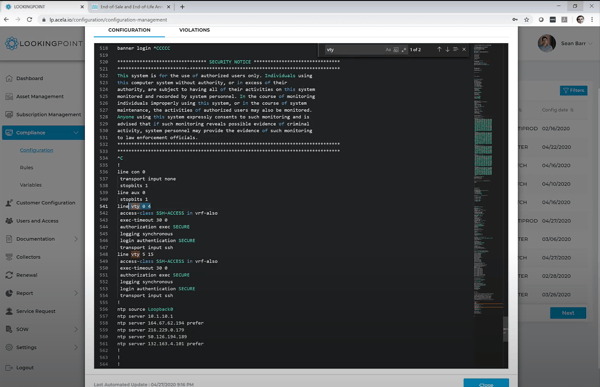 If I click back over to the violations, we can see we've got 1 through 4. This is a policy configuration, so we go in and tune the policy to say 0 through 4 for these devices or we could actually do a statement to look for 0 through 4 or 0 through 5 or 1 through 4. Those are all options that we could do from a rules perspective. This quickly gives you an idea of where you're at from a configuration compliance in all of your assets and also it does it in real time.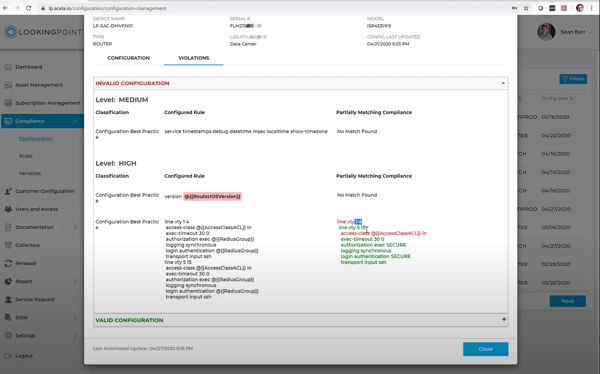 We covered a lot, we covered how Acela provides you asset management and inventory information such as support information, recommended IOS like if there's a device replacement available. We talked about how Acela pulls all of that information from your monitoring tool, so whether you have SolarWinds or LogicMonitor, we can take in that data and give you asset information in real time. It also helps you manage your SmartNet, so as you're trying to renew your SmartNet you can clearly see what device is associated to what serial number. It's super easy for you to sort out if you need coverage on a particular device or you do not. Additionally it provides asset management in terms of configuration compliance, and it does it in real-time so it makes sure that if you have devices or if you have a configuration best practice, that it's always in place on all of your devices. If it's not in place, it tells you in real time as well so you can fix those errors and issues without manually going through your configurations and trying to keep them in compliance with all the changes that could be going on in the network. It's an easy way to make sure you're in compliance and to make sure your SmartNet is covered.
I hope I answered some of the key questions that you may have about Acela if you'd like to learn more or you'd like to set up a demo reach out to us at sales@lookingpoint.com.
Check out our video on the key features of Acela :
Written By:
Sean Barr, LookingPoint President