Marketing Velocity Day 2 has concluded, and I left the conference today inspired to think beyond digital transformation. Each of the day's sessions shared a common theme - embracing the "new normal" in today's technological world.
This morning featured a keynote session with Serial Entrepreneur and Acclaimed Author, Peter Hinssen who discussed "old normal vs. new normal", and got attendees thinking posing the question, "What if we're only half way there?" Our world is seeing a generational gap where Gen-Xers remember a time when Atari was the hottest technology on the market, and millennials are can't imagine technology less advanced than the Play Station. We live in a world where technology is constantly changing and becoming more and more innovative. As Peter highlighted how far technology has come in just the past 10 years, he also noted "the world is going to change more in the next 10 years than in the past 20-30 years". He challenged the room full of marketers to embrace the changes to come, and to focus on how to remain relevant for the next generation of customers.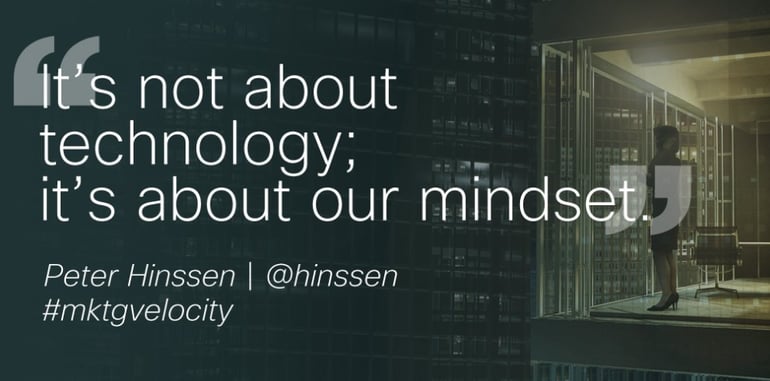 The later part of my morning was spent in a workshop learning about video content in today's market.Lynn Astalos and Aida Jones from Astalos Group shared with partners the power of video content for today's marketers. Samantha Saturn – VP, Marketing at StudioNowoutlined the importance of foundational videos, and of creating content people want to share. Saturn walked the room through the top types of video being consumed today, and strategies on how to provide the most value with your videos. After some hands-on video experience, Patty Skovron – Director, Digital Content Strategy at Hearst Bay Areahighlighted video metrics and analytics that will improve engagement and video content quality.
After lunch, I enjoyed a breakout session hosted by Jennifer Reed – VP, Channel Marketing at Channel Maven Marketing. She stressed the importance of influential marketing and not interrupting the intimacy model. Social media is the online word of mouth, and has greater reach than any other form of connection (mail, email, meetings, calls, etc.). To keep up with today's market it is important to connect and maximize social engagement with customers.
The day concluded with a keynote speaker presentation by Martin Lindstrom - Change Agent, Brand Futurist, and Best-Selling Author. Lindstrom wrapped up the day sharing the importance of the human-to-human connection. He outlined the importance for companies to move past what customers say and strive to understand what they feel. Sharing key aspects of human connection in business he stated, "If you're really smart, you don't just talk to your customer – you talk to your customers' customer". The human connection example he shared that resonated most with me was one from 2008. When the economy was very uncertain in 2008, Hyundai Motor America aimed to calm consumers worries about potential job loss when buying a car by offering to buy your car back if you lose your job within a year of buying. This program embodied the idea of human-to-human connection, and elevated Hyundai's customer experience by easing their anxiety when making a big decision in an uncertain time. The importance of this type of customer experience is no different today than it was then.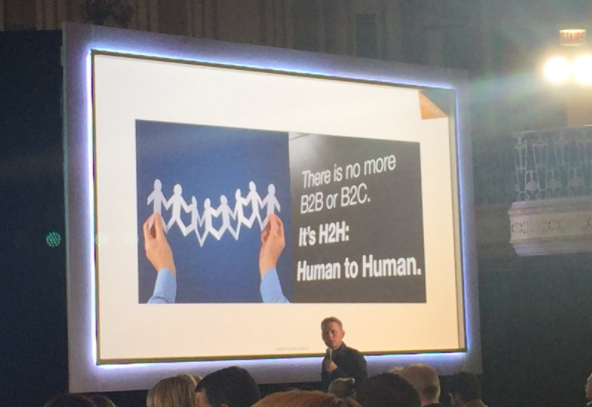 Day 2 really challenged me to focus on the customer's experience and how to stay relevant in a world of ever-evolving technology. The first two days of Marketing Velocity have been fun and thought-provoking, and I am looking forward to being even more inspired at the final sessions tomorrow.
Written By: Eden Penman, LookingPoint Marketing Coordinator