The conference room video solutions have greatly improved and are simpler to implement, use, and support than ever before. I see two major drivers for this trend. First is the move to cloud for endpoint registration and video bridging in the cloud. This move to cloud has lowered the entry point for many customers to enable video in the conference room. The second driver is the decreasing cost for the video endpoint. Video is now more affordable for all types of rooms including small huddle rooms, general purpose rooms, large training rooms, and executive conference rooms. However, there are still major differences between manufacturers when it comes to the way these solutions are installed, managed, and their usability. For this blog I will be comparing the Cisco Room Kits and the Zoom Rooms. I find it very interesting how both companies have taken a completely different approach enabling video in conference rooms.
Hardware Options
In this comparison the device options between Cisco and Zoom are in complete contrast to each other. We see Cisco build the full stack from the device hardware and the software similar to Apples' approach with the iPhone. On the other hand, Zoom creates the software while partnering with hardware device manufactures such as Logitech, Intel, and Crestron for example.
Cisco Room Kit Endpoints
Cisco has created a website called Project Workplace that showcases all of their video collaboration endpoints as well as conference room layout examples. This is a great website for getting ideas and seeing all the different options from Cisco. I will primarily be looking at the Cisco Webex Room Kits which are the Room Kit Mini, Room Kit, and Room Kit Quad Camera.
Room Kit Mini

(2-5 people)

Built-in Codec

1 UltraHD 4K Camera

2x zoom

1 video in @ 4K

1 video out @ 4K

Internal microphone Speakers @ 85 dB

WiFi and Bluetooth

Active lip synchronization

Room Kit

(3-7 people)

Built-in Codec

1 UltraHD 5K Camera

3x zoom

1 video in @ 4K

2 video out @ 4K

2 mic in

1 line out

Internal microphone

Speakers @ 86 dB

WiFi and Bluetooth

Active lip synchronization

Room Kit Quad Camera

(6-14 people)

External Codec (*Plus or Pro)

4 UltraHD 5K Cameras

5x zoom

*Inputs and Outputs based on Codec

Internal microphone

Loudspeakers @ 90 dB

WiFi and Bluetooth

Active lip synchronization
All the Room Kits have built in speakers with the Camera. The Room Kit Mini and Room Kit both have built in codec's for processing video while the Room Kit Quad supports either the Codec Plus or the Codec Pro.
Cisco Codec Plus

3 video inputs

2 video outputs

3 microphone inputs

1 line output

PoE for Touch 10

WiFi and Bluetooth

Cisco Codec Pro

6 video inputs

3 video outputs

8 microphone inputs

3 line output

PoE for Touch 10

WiFi and Bluetooth
The Cisco Touch 10 is the control unit for all the different Cisco video endpoint. This makes user experience the exact same regardless if the room is small, medium, or large. When people feel comfortable with a technology, they are more inclined to use these collaboration systems. Plus the Cisco Touch 10 user interface is one of the most intuitive I have come across. What's more you can pair multiple Touch 10 control units to a single video endpoint which is great for rooms that are very large.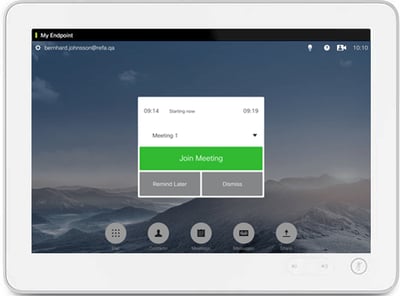 Zoom Room Recommended Endpoints
In stark contrast the Zoom Room software leverages commodity hardware such as a Windows Desktop or Apple Mac mini connected to a USB camera. This software approach allows for many unique and different setups. To enable customers, Zoom has provided hardware recommendations and even a packaged kit that you can purchase on Amazon. Here are a few Zoom Room recommended hardware options. You can find all Zoom Room recommended hardware at https://zoom.us/zoomrooms/hardware.
Zoom Huddle Room

(2-7 people)

Kit Bundle with:

USB Logitech Meetup Camera

Dell Optiplex 7050

Windows 10 IoT

iPad Mini 4

wireless Logitech K400 Plus

Zoom Huddle Room

(2-7 people)

Kit Bundle with:

USB Huddly GO Camera

Dell Optiplex 7050

Windows 10 IoT

Crestron Mercury Conf Phone

wireless Logitech K400 Plus

Zoom Conference Room

(7-15 people)

Kit Bundle with:

USB EagleEye IV PTZ camera

Dell Optiplex 7050

Windows 10 IoT

Polycom Trio 8500
Cisco Room Kit User Experience
When building a Cisco Room, it was easy and predictable. The Cisco Collaboration Endpoint (CE) Software is pre-installed on each new Room Kit and auto updates when registered to the Webex Cloud. The Room Kit supports Consumer Electronics Control (CEC) which will auto wake up a TV and set it to the correct video input. The cloud registration process to the Webex Control Hub is so easy that customers can get up and running in just a few minutes.
Cisco Room Kits offer users some of the best experience with 4K content, automatic framing with speaker tracking, and wireless sharing. Cisco has also been adding intelligence which they have branded Smart rooms. This includes features such as people counting to provide usage metrics and resource allocation reports.
To help illustrate the ease of on-boarding a Room Kit to the Cisco Control Hub (cloud registration), here are the steps:
Add a new Place from the Cisco Control Hub
Enter the Activation Code that was auto generated into the Room Kit
That it. Just 2 steps in under 60 seconds and you have a working video Room Kit.
The Cisco Room Kit endpoints have also been equipped with the NVIDIA Jetson visual and AI computing platform, the same platform many self-driving cars use. By creating the hardware, Cisco is able to provide some amazing features such as:
Real-time video image processing using the camera's state-of-the-art, advanced 5k sensor allows intelligent views, analytics, and full HD encode/decode.
Advanced speech and face recognition that pinpoint who's speaking in the room, allowing the camera to select the best framing for that person or group. It even tracks the active speakers as they move within the room.
Optimized high-fidelity audio and wireless content sharing with up to 4k resolution.
Zoom Room Kit User Experience
The Zoom Room Kits are a do-it-yourself model of various hardware components. Based on the recommended hardware I built the Zoom Room Small Kit that is packaged many places online. As of this writing, Zoom is no longer promoting this configuration. However, the only difference is that Zoom now is recommending the Dell Optiplex 7050 rather than the Intel NUC NUC5i7RYH. All the other components in the Zoom Room Small Kit is the same as the Zoom Huddle Room.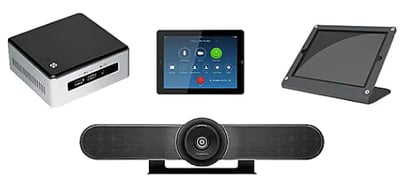 After connecting all the components, I spent some time joining Windows 10 to the domain and configuring ACL's on the network to allow for secure guest access. I also paired the iPad mini with the Zoom software running on the Windows 10 computer. A major complaint is when TV, computer, and or iPad go into power save mode the iPad would unpair with the Zoom app on the computer. The other noticeable difference was when clicking on the App from the iPad, it would not auto wake up the TV screen or set the correct video input. This is most likely due to not supporting Consumer Electronics Control (CEC).
Summary
In closing, the Room Kit and Room Kit Plus video endpoints are some of the best I've used in the industry. People expect a video experience that is simple, reliable, and of high quality. These new Cisco Room Kit devices with One-Button-to-Push (OBTP) and Cloud registration to Webex deliver on this user experience. In video, seeing is believing. If you would like to see either of these systems in action feel free to contact us.
Resources
Tech Talk: Cisco Webex Room Kit vs. Zoom Room: https://www.youtube.com/watch?v=abuyVQBfc2c&t=5s
Cisco Room Kit – A Guide to a Successful Deployment Easy as 1, 2, 3!
https://www.lookingpoint.com/blog/cisco-room-kit-guide
Collaboration Room Basics: https://www.youtube.com/watch?v=RQkrR249Tz0
Tech Talk: Cisco Webex Room Kit Deployment: https://www.youtube.com/watch?v=gaFvqx25edc
Tech Talk: Zoom Room Deployment: https://www.youtube.com/watch?v=3t5u_SnNNVw&t=4s
Cisco Project Workplace – Collaboration Devices: https://projectworkplace.cisco.com/#/en-us/product
Zoom Rooms Devices: https://zoom.us/zoomrooms/hardware
Written By: Marshall Hill, LookingPoint Solutions Architect