Day 2 of Cisco Live was filled with amazing new technology, new applications, new innovative services, and the power of Cisco's partnerships. Cisco is continuing to build their intent-based networking with DNA, DNA Center now DNA Assurance. What really caught our attention today was the network and security innovations and integrations. Here are our top takeaways.
David Goeckeler kicked off Cisco Live Day 2 with his Technology Keynote. The new DNA Center and DNA Assurance are, as Goeckeler said, "powered by intent and informed by context". Last year Cisco unveiled the new Digital Network Architecture – a new network focused on business outcomes and how quickly and efficiently businesses achieve these outcomes. DNA is supported by a complete software-based network automation and assurance solution, DNA Center, where policies are defined and automatically configured and implemented across each individual switch, router, and wireless access point that make up the enterprise access network.
Sachin Gaputa joined the stage to demo DNA Center and more importantly DNA Assurance which provides visibility into everything that has happening and is happening on your network. The DNA Assurance dashboard draws in insights from hundreds of nodes –access points, switches, controllers, ISE, etc. - and aggregates all the data in one place and contextualizes it. Using DNA Assurance, you are able to investigate the health of each client connected to your network and pinpoint exactly what is happening in your moment at any given time. The dashboard also performs automated baselining and provides automated remediation actions. With Cisco DNA Assurance you can gain full visibility to health of your network, predict network performance and rapidly troubleshoot issues.
For anyone who may have missed Cisco Collaboration Summit back in April, Jonathan Rosenberg provided a full demo of the new Webex tools and capabilities, including the new 5x5 grid view and Augmented Reality capabilities!
Sachin Gupta also led a Showcase Innovation presentation talking about one of our favorite technologies, SD-WAN. Today enterprise networking priorities can be broken down into security, reliability and experience. With Cisco you can automate your access and your WAN with SD-WAN. With Intent Based Networking you are able to dramatically reduce the time it takes to set up your network. Cisco has built DNA around security. With Cisco Stealthwatch you can extend threat detection and containment to DNA Center. DNA Center also automates encrypted traffic telemetry to be sent to Stealthwatch using Cisco's Encrypted Traffic Analytics (ETA).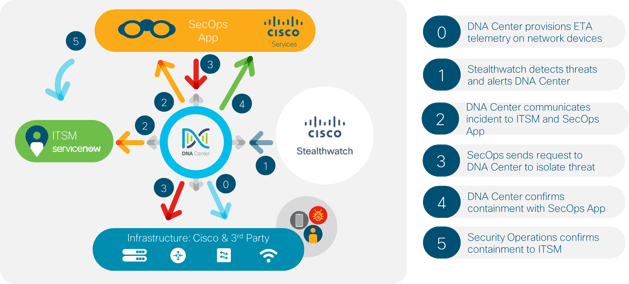 Cisco's vAnalytics platform is a SaaS services hosted as part of Cisco's SD-WAN solution. The new cloud-analytics platform gives you insights to the information you need to maximize your application performance. vAnalytics will respond to your applications scores to direct traffic out the most efficient branch.
Cisco Live Day two was as good as day one and we love hearing about the enterprise networking solutions. Cisco Live Day 3 kicks off with data center and cloud automation with Hyperflex and UCS and you don't want to miss it!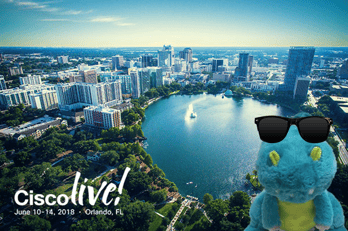 Written By: Eden Reid, LookingPoint Marketing Manager