Cisco VP of Collaboration, Amy Chang, just gave her keynote at Enterprise Connect 2019 and we're excited for the amazing new features and integrations Cisco has lined up for their collaboration platforms.

Cisco is calling their new multidimensional approach to collaboration "Cognitive Collaboration" and define it as "the intelligence and context integrated in a collaboration enabled workflow for connected, relevant, and human experiences." As the world becomes more connected, digital meetings need the capabilities to connect us the same way in-person meetings used to. To give digital meetings that in-person feel, Cisco is integrating facial recognition, a virtual assistant, customer journey insights and people intelligence and insights.
Accompany Integration
Last year Cisco acquired Accompany, this year they are integrating the insights provided by Accompany with Webex. With the Accompany integration in Webex Meetings, Webex can now gather information from publicly available sources to build you a rich profile for meeting attendees. You are also able to view internal directory details for meeting participants from your own company. These insights allow you to know more about the companies and people participating in your meetings. Webex People Insights provide information such as:
Advisories
Biography
Publication and videos
Recent news
Professional summary
Education
It also provides company insights such as:
Financial
Executives
Recent news
Recent activity
The best part? Automated alerting for news spikes for the companies you own or manage!
Webex Updates
Webex won the CRN 2018 product of the year award! But, that isn't stopping Cisco from continuing to up the game.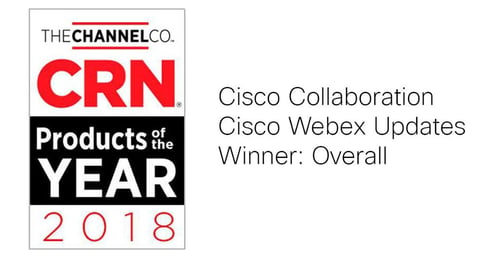 Today they announced a few new Webex features including:
Facial recognition
Attendee biographies available directly in the platform
Webex assistant: the new Webex Assistant is designed to make it easier start meetings, join or leave meetings, make calls, navigate and control devices, find and book a meeting room, share screens or whiteboard, record meetings, and take meeting notes.
AI powered devices
Active framing
Advanced telemetry
Office 365 integration
Webex Calling
Broadsoft helps to reduce inherent cost, complexity, while maintaining feature/functionality, security, and reliability with Cisco Webex Calling: a cloud-based, communications solution, packed with all the enterprise-grade features of a PBX and integrated with Webex Teams and Devices. Add on the available Webex Meetings to make the most complete, business-ready bundle on the market bearing the trusted Cisco Webex brand and proven Cisco BroadCloud calling platform that is used by over 20 million business users worldwide. Webex Calling makes it easy to move to the cloud at your own pace by bringing all the functionality you need together for calling and collaboration in one simple package under the Cisco Collaboration Flex Plan licensing model. Deploy as cloud-only, or as part of a mixed network of cloud and on-premises PBXs and gateway's, depending on business requirements. No matter the deployment model you can re-use your existing PSTN connectivity (TDM, SIP or IPPBX) as well as the Cisco 6800 and 8800 series endpoints you already have in use in your environment today. The Collaboration Flex offers financial protection and flexibility for you to deploy and transition users from on-premises to the cloud through one subscription.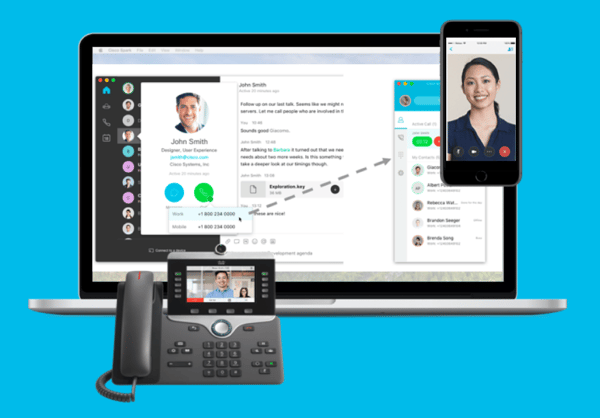 Cisco Collaboration Flex Plan
The new Cisco Collaboration Flex Plan is a subscription plan that allows companies to pay for Cisco collaboration tools per active user in their organization. The Flex Plan offers faster, simplified ordering and covers Webex Meetings, Teams and Calling.
Here at LookingPoint we are excited about the updates being made to Cisco's Collaboration portfolio. We see how our customers will benefit from the new integrations and a new flexible consumption-based subscription model. If you would like to learn more about how your organization can benefit from the new collaboration suite, please reach out to our team here!
Written By: Dustin Kaplan, LookingPoint Consultant Services Engineer