Cisco is and has been a leader in on-prem solutions for Contact Center and now is leading in Cloud solutions for CC as well. Appropriate for solutions that range between 21 – 300 agents, Webex Contact Center enable Sales and Service departments in an enterprise find and fulfill customer needs.
The History and naming
Cisco acquired Broadsoft in February 2018 to bolster its Cloud presence while still maintaining its rich on-prem solutions for Contact Center. Cisco intends to continue to invest at the same level as before with its CCX and CCE, which are market leaders in on-Prem technology for Contact Center.
Broadsoft CC-One which was renamed to CJP (Customer Journey Platform) initially, is a market leader in Cloud Contact Center solution that has rich features such as multi tenancy, flexible routing strategy, Analytics, Workforce Optimization, Outbound campaigns, Omnichannel, etc.
Cisco is looking to further enhance and integrate CJP with its existing product line and has just rebranded CJP as Cisco Webex Contact Center.
Overview
This is a picture of Cisco's current Contact Center portfolio of offerings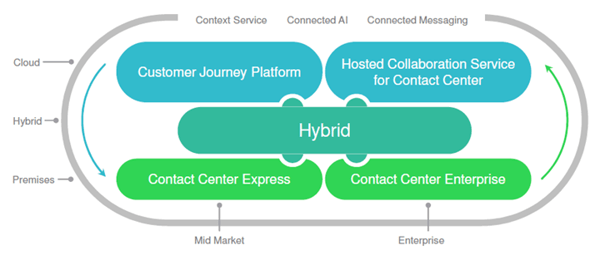 With the combination of Webex Calling, an enterprise can have a complete working solution entirely in the cloud.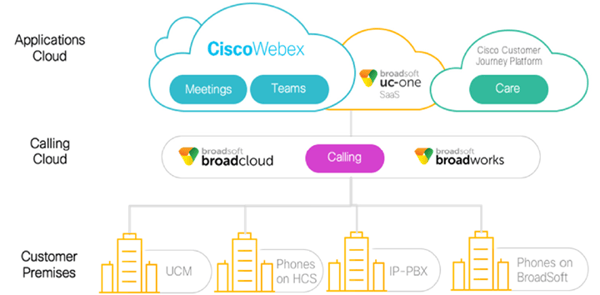 With Cisco Webex Contact Solution/CJP, an enterprise can accept and route email, chat and phones calls to the most appropriate agent and provide relevant customer information to the agent via CRM integrations. A supervisor can track/monitor/report/review on all of the activities for better Business Intelligence.
Agent requirement
There is very little in terms of agent requirement. The agent needs to have a compatible browser, and some sort of telephony device that can accept a phone call. So that means your agent can even use their cell phones to take a customer call, although that's not the recommended endpoint. The endpoint should not forward the call in any scenario, and should not be subject to things like poor signal coverage… that's about it.
Servers and Global Availability
CJP architecture separates the Application center (the servers that handles the various admin/agent connections and that houses Data), and the Voice Media (the servers that handles the RTP and recordings)
Here is the current and planned availability of both. Customers can choose to home to the closest Application Center and vPops.
Planned expansion of Application Centers
EU: completion in Fall of 2019
Japan: Late 2019
Australia: 2020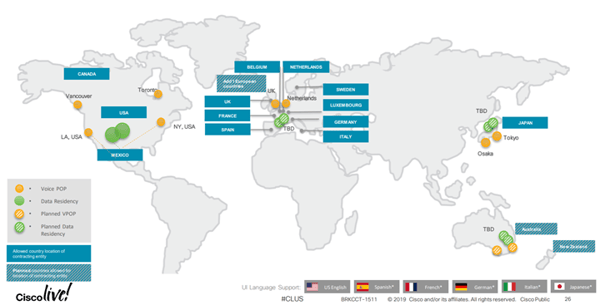 Call Flow option 1
This is the typical call flow with an Enterprise on-Prem Call Control solution like CUCM.

Call Flow option 2
This is the all cloud option that utilizes BroadWorks or Broadcloud or Webex Calling that requires no on-prem infrastructure.

If you have any interest on how to incorporate the updated Webex Calling into your network, contact us here!
Written By: John Li, LookingPoint Principal Network Architect - CCNP