The countdown begins for Cisco Live 2019 in San Diego! We are super excited to see all that Cisco will be presenting and introducing to us. We thought that we would give you our top picks of sessions to attend during this jam packed, awesome week!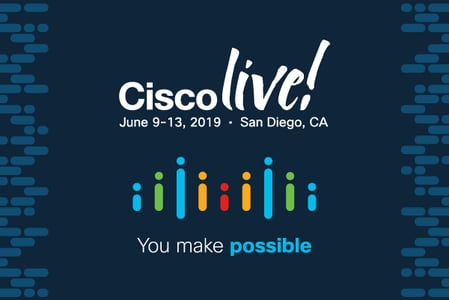 MONDAY:
Monday, June 10, 09:00 AM - 10:00 AM
Strategies for Developing an Inclusive Workplace (BITGEN-1011)
Janet Stovall, Executive Communications Manager
Janet Stovall has developed a business approach that addresses corporate racism head-on — and has created methods to help dismantle it. Imagine a workplace where people of all colors and races are able to climb every rung of the corporate ladder -- and where the lessons we learn about diversity at work actually transform the things we do, think and say outside the office. How do we get there? In this candid talk, Janet shares an action plan for creating workplaces where people feel safe and are expected to be their un-assimilated, authentic selves. Companies can mandate diversity, but they have to cultivate inclusion.
Monday, June 10, 10:30 AM - 12:00 PM
KEYNOTE: "You make possible" (KEYGEN-1001)
Chuck Robbins, Chairman & CEO, Cisco Systems, Inc.
David Goeckeler, EVP and General Manager Networking and Security Business, Cisco
The world is full of opportunities because of the promise of technology, and you make this possible. You turn the impossible into possible. At Cisco, we are focused on building the most innovative solutions that unleash the potential of our digital world. Join Cisco CEO Chuck Robbins and Engineering leaders David Goeckeler and Amy Chang as they share Cisco's vision for the future and unveil new innovation that will transform our industry, your business, and our world.
Monday, June 10, 01:00 PM - 01:30 PM
Reinventing SD WAN in a Multi-Domain World (INTRST-1200)
Sachin Gupta, SVP. PRODUCT MANAGEMENT, Cisco Systems, Inc.
As companies deploy SD-WAN and extend to the cloud, they require an integrated solution that is easy to deploy and that provides security and fan-over from their branches to their data centers and into their cloud applications. Only Cisco has the capability to cover this end-to-end – other vendors are siloed.
Monday, June 10, 02:00 PM - 02:30 PM
Cisco IoT Innovation Talk (INTIOT-1104)
Elizabeth Centoni, SVP/GM.IOT, Cisco Systems, Inc.
Join us to hear more about how Cisco IT customers are collaborating with operations to transform businesses. See a demo of how we are extending Intent-Based Networking to the edge of the network and unlocking this data to provide even better insights for your business. Hear from a Cisco customer how they have transformed their operations with Cisco IoT solutions. Finally, we will also cover how our customers are using DevNet resources to extend applications to the edge of the network.
Monday, June 10, 02:30 PM - 03:15 PM
A Bold, New Network for Infrastructure Developers and Application Developers (INTDEV-1203)
Susie Wee, SVP and CTO of Cisco DevNet, Cisco Systems, Inc.
Join Susie Wee, SVP and CTO of DevNet, as she introduces exciting new resources from DevNet that you can use to build your skills and embrace emerging network automation opportunities to make yourself invaluable to your company and customers. And, meet the DevNet team for a fast-paced and fun "Demo JAM" where you will see real-world examples of these new technologies in action.
Monday, June 10, 03:00 PM - 03:30 PM
Digital Workplace Transformation: The New Way of Working Enabled by Cognitive Collaboration (INTCOL-1103)
Vasili Triant, VP/GM, Customer Journey Business Unit, Cisco Systems, Inc.
Sri Srinivasan, SVP/GM, Webex Meetings, Teams, Calling & Devices, Cisco
Pegah Ebrahimi, Chief Operating Officer, Collaboration Technology Group, Cisco Systems, Inc.
Learn how you can empower your teams, create more meaningful customer experiences and win in this highly competitive environment. This session will explore workplace transformation trends you should not ignore, including demonstrations of new way of working and cognitive enabled experiences across the enterprise and contact center.
TUESDAY:
Tuesday, June 11, 08:30 AM - 10:00 AM
Roadmap: Cisco Unified Computing System (UCS) and Intersight (CCP-1400)
Danny Hanson, DIR.PRODUCT MANAGEMENT, Cisco Systems, Inc. - Distinguished Speaker
This exclusive session will be a deep dive into the 12 month roadmap for the Cisco Unified Computing System (UCS). We will be focused on what is coming in UCS in servers, adaptors, storage, fabric, accelerators, Intersight, and security. Alongside a technical overview, we will talk to how and where new products and technologies provide solutions to customer needs.
Tuesday, June 11, 09:00 AM - 10:00 AM
The Buried Life (BITGEN-1010)
Ben Nemtin, The Buried Life Movement
Ben's message of radical possibility combined with his '5 Steps to Make the Impossible Possible' will leave you not only inspired but also equipped to tackle the seemingly insurmountable. Ben's system of achieving impossible goals demystifies daunting tasks by turning 'dreams' into 'projects' and creating a digestible pathway to success. Ben reminds us that it's never too late to start your list or leave a lasting impact on others.
Tuesday: Tuesday, June 11, 10:30 AM - 12:00 PM
KEYNOTE: "Innovation without Boundaries" (KEYGEN-1002)
David Goeckeler, EVP and General Manager Networking and Security Business, Cisco
Maria Martinez, EVP.CHIEF CUSTOMER EXPERIENCE OFFICER, Cisco Systems, Inc.
Only cisco can provide multi-domain infrastructure that the businesses of tomorrow demand. Together, we have a rich history of innovation that has shaped the future of business. Today we are redefining these boundaries of innovation to shape the future of digital experiences. To achieve what we know is possible, we need a new approach. Only Cisco can deliver the multi-domain infrastructure that the businesses of tomorrow demand. Come hear about our commitment to your success through our game-changing technology and an entirely new customer experience. Chuck Robbins, Chairman & CEO, Cisco Systems, Inc.
Tuesday, June 11, 01:00 PM - 01:30 PM
Foresee the unpredictable. Automate the unmanageable. Answer the unsolvable. (INTGEN-1206)
Ulf Vinneras, Senior Director, Cisco Systems, Inc.
Alvio Barrios, SVP, CISCO SERVICES, Cisco Systems, Inc.
In this session Alvio Barrios, SVP and leader of Cisco's Customer Experience in the Americas, and Ulf Vinneras, Senior Director, Customer Experience Product Management will share how Cisco is leading this transformation and developing services that help customers accelerate time-to-value, optimize operations and improve adoption. Applying automation and machine learning to align with business intent, Cisco helps businesses rise above during this unprecedented time
Tuesday, June 11, 02:00 PM - 02:30 PM
Simple, Secure, Digital Workplace with Cisco Meraki (INTRST-1105)
Todd Nightingale, SVP/GM. MERAKI, Cisco
Cisco Meraki's SVP and GM, Todd Nightingale, will demonstrate Meraki's innovative, data-driven approach to engineering, optimizing customer networks, prioritizing application traffic, and providing security.
Tuesday, June 11, 03:00 PM - 03:45 PM
Lifting the Limits: Data Center Straight Talk (INTDCN-1101)
Roland Acra, SVP/GM.DATA CENTER BUSINESS GROUP, Cisco
In this fast-paced, straight talk session, learn about new Cisco innovations that improve business operations around three themes:
Data Center Anywhere. Cisco's data center offerings allow you to place apps based on a business decision, not a technical limitation – from on-prem to public cloud to the edge. Cisco's flagship network and compute infrastructure enables you to keep pace with your business and get ahead of your competition.
AI-assisted Operations. You've got your data center up and running; now you need to keep it that way. Hear about the latest innovations that allow you to use data telemetry to gain insight, allowing you to take action and assure compliance.
Multi-domain Integrations. Cisco integrations allow you to automate IT from your data centers to the campus, branch and directly to the workloads.
Tuesday, June 11, 03:30 PM - 05:30 PM
Cocktails & Conversations - Executive Mentoring (LEAD-1008)
Mix and mingle with new friends and old!
Tuesday, June 11, 04:30 PM -7:30 PM
Leadership & Equality: Professional Head-shots (LEAD-1150)
Need a professional head-shot? As part of the Leadership & Equality track, you can have your professional head-shot taken onsite. Photos will be offered on Tuesday, June 11 at the Grand Hyatt, America's Cup ABCD Foyer from 4:30 pm – 7:30 pm. Space is limited, so please reserve a time-slot.
WEDNESDAY:
Wednesday, June 12, 9:00 AM - 10:00 AM
The Future of Human-Robot Interaction (BITGEN-1009)
Kate Darling, Leading Expert in Social Robotics and MIT Media Lab Research Specialist, MIT
Dr. Darling examines why people fear some robots and empathize with others, while also prompting –and answering –questions about what society's relationship with these robots could look like in the future. What follows is in part an examination of the technology itself, but ultimately, offers a window into how it's poised to change the way we relate to each other and our own humanity–and why it matters.
Wednesday, June 12, 10:30 AM - 11:00 AM
Reinventing Access in a multi-domain world (INTRST-1100)
Anand Oswal, SVP. ENGINEERING, Cisco
Today IT needs to ensure their rapidly growing networks connect users, devices, data and applications in a wide variety of combinations. For this to happen securely and efficiently they need to consider their network as a single system not as disconnected domains. Users want to access the network from wherever they are on whichever device is most convenient. IT wants to ensure the people and devices can securely access what they need but only what they are authorized for-but wants to do this in a way that will scale. We are reinventing and automating access to make this a reality.
Wednesday, June 12, 11:00 AM - 11:30 AM
What is the Future of the Firewall? (INTSEC-1202)
Jeff Reed, SVP. PRODUCT, Cisco
In the world we live in today, is the perimeter dead? Or, do we actually need firewalls in more places than ever before? But, how do you manage them all? Consistent policies? Come to this session to learn about the future of the firewall and see demos of Cisco Defense Orchestrator and Cisco Threat Response.
Wednesday, June 12, 1:00 PM - 1:30 PM
Service Provider Innovation in Action (INTSPG-1204)
Sumeet Arora, SVP/GM.EXECUTIVE, Cisco
In this session, we will explain how Cisco is breaking new ground in silicon, software, optics, and system with innovations to enable architectural shifts for scale and application relevance. We will provide an update on how we are enabling new architectural designs, and how we are simplifying and automating the networking stack while delivering a more secure and trusted network infrastructure. Sumeet will combine this with some innovative commercial offer structure discussions in support of our customers' business goals of investment protection and innovation assurance.
Wednesday, June 12, 02:00 PM - 02:30 PM
Optimizing Your Multi-cloud Environment: Driving Innovation & Results (INTCLD-1201)
Kip Compton, SVP. ENGINEERING, Cisco
Digital transformation is a driving force of modern, agile IT. In today's multi-cloud reality, finding the right solutions that can address their specific needs is not always easy, especially when it comes to building a cohesive environment across on prem, co-lo, public clouds, and SaaS. In this session, we will demonstrate automation and integration with Cisco CloudCenter Suite, and showcase how we are working together with partners to help you unleash the potential of your multi-cloud strategy.
Wednesday, June 12, 04:00 PM - 04:30 PM
Compete on User Experience and Win: Application Visibility and Business Insights from AppDynamics (INTGEN-1205)
Daniel Winokur, VP.OPERATIONS, Cisco Systems, Inc.
Join AppDynamics Chief Product Officer Danny Winokur to learn how AppDynamics and Cisco connect application visibility and business insights with infrastructure and cloud monitoring to enable the BizDevOps operating model needed to compete in our experience economy. See real-world use cases showing how AppDynamics connects previously siloed tools and enables tighter cooperation between teams to proactively solve problems and optimize user experiences.
Wednesday, June 12, 04:00 PM - 05:00 PM
Moments in Silence (BITGEN-1012)
Leland Melvin, Former NFL Football Player and NASA Astronaut
Leland looks back on his uncommon life — he is the only person in human history to catch a pass in the NFL and walk in space. Leland will examine his life through the prism of success and achievement. How did he succeed where he rightly should have failed? What motivated him to overcome injuries, setbacks, expulsions, and debilitating deafness? Leland will not only recount his path with honesty and curiosity, he will also mine the latest thinking by researchers, authors, and academics, applying their work to his own life – and by extension giving the audience applicable takeaways.
Wednesday, June 12, 07:00 PM - 11:00 PM
Cisco Live Celebration at Petco Park
Kick back and enjoy an one of a kind concert with the Foo Fighters and Weezer!
THURSDAY:
Thursday, June 13, 3:00 pm - 4:00 pm
Closing Keynote: A Conversation with Julia Louis-Dreyfus (KEYGEN-1003)
The entertainment industry is rapidly changing, much like the tech industry. To prosper in an ever-changing environment, requires perseverance, adaptability and a sense for "what's next." No one knows more about staying relevant then the Emmy-winning-est performer in TV history, Julia Louis-Dreyfus. Join us on Thursday, June 13, as the star of the HBO hit series, Veep, humorously delivers insights and inspiration on how to remain relevant despite the chaos.
In you are interested in any of these topics, check out all of the various sessions, labs, and talks:
OTHER ACTIVITIES ON CAMPUS:
Looking for a more hands on experience? Head over to the Sails Pavilion where you have the ability to develop Cisco technology in the DevNet Zone, speak with the best and brightest engineers at the Technical Solutions Clinic, get firsthand knowledge of all products and solutions from Cisco at the Walk-In
Labs, and experience the ultimate Capture the Flag game by solving challenges by understanding how attackers operate and investigate security incidents.
Want to get social? Become a Cisco Live correspondent! Use #CLUS hashtag before, after, and during Cisco Live 2019 and you could win some great freebies or free sessions with a Cisco specialist. Check out the rules and opportunities here!
San Diego is all about soaking up the sun, enjoy the IOT Playground located on the Marina Lawn with ping pong, and shuffle board! If you want to give back during your breaks, Cisco Live has partnered with Give2Get this year to offer volunteer activities that will benefit people who are homeless in the local San Diego community.
WALKING DISTANCE OFF CAMPUS FUN:
Lionfish (8 minute walk)- Upscale choice for small plates, sushi & coastal cuisine served in a sophisticated two-story space.
The Nolen (9 minute walk) - Stylish bar on a hotel rooftop with skyline views, lounge seating & a communal fire pit.
Rustic Root (10 minute walk) - Modern rooftop destination featuring local, seasonal cuisine & craft cocktails in stylish surrounds.
Prohibition Lounge (10 minute walk) - Stylish, red-hued haunt with a 1930s vibe, featuring live music & seasonally inspired cocktails.
barley&mash (12 minute walk)- Sports TV & DJs accompany visits to this mod spot, known for craft beer, bourbon & flatbread pizzas.
Vin de Syrah (16 minute walk) - Quirky decor plus DJs & live music in this hip, hidden lounge serving wine, cocktails & small bites.
Tipsy Crow (14 minute walk) - Historic tri-level hangout serves pub grub & signature drinks alongside games, comedy & live music
We hope you have a wonderful time at Cisco Live 2019 and hopefully we will see you there!
Written By: Bridget Mckenzie, LookingPoint Marketing Specialist