Last week was the long-awaited Cisco Live 2019! And two of our wonderful engineers wrote up their thoughts on the week. For a quick recap check out Dominic Zeni's overview of the week below and if you want a more in-depth recap check out Trevor Butler's deep dive into the Cisco Live 2019 World.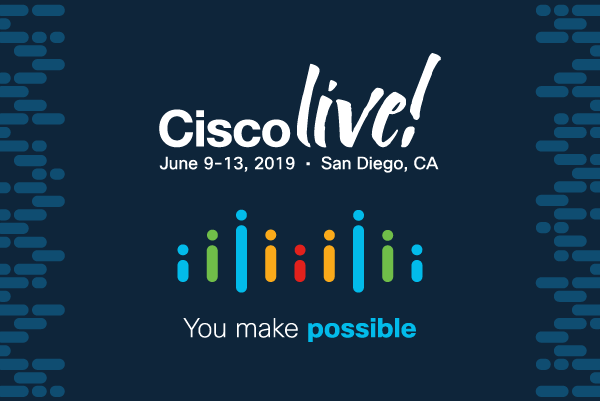 For the Short Attention Span Readers:
Another year, another Live! Building Bridges was one of the themes of this years' Cisco Live and you can see it ringing true across the portfolio. Take Cisco Umbrella for example. It is no longer just a DNS layer security tool. Using the cloud-native Umbrella application, Cisco has built integrations to CloudLock, SDWAN, and soon ThreatGrid. With just the click of a button from your vManage, you can build tunnels (bridges??) from your SDWAN to your Umbrella and begin leveraging the full featured Umbrella Secure Internet Gateway. Or how about Cognitive Collaboration, building bridges to well…everywhere! Taking in contextual information from the Internet in all forms, Cognitive Collaboration promises to make us more prepared, more productive, and more successful in the meetings we attend. The new SVP of Collab, Amy Chang, came to Cisco through an acquisition of Accompany (the technology at the heart of Cognitive Collab). I'm very excited for the things to come from Amy's team and Cognitive Collaboration. At the heart of all of these technological bridges are API's. So, where's the bridge for me as a traditional systems or network engineer that takes me from the CLI or the GUI to the API? Enter the new DevNet certifications announced at Cisco Live. A path (bridge??) for learning is very helpful when approaching an ocean of new technology and I'm excited to see what it's all about! - Dominic Zeni
For The Insatiable Readers:
This year Cisco Live was held in sunny San Diego. Between the breakout sessions, the walk-in labs, and an amazing performance by Weezer and the Foo Fighters, Cisco announced some new products and new certifications.