Technology is constantly moving and advancing, and as we continue to innovate we are able to use different enterprise technologies to grow our business. Technology used to be a means to help operate the business but has transformed into a means to better the business beyond those day-to-day operations. Technology is connecting our teams, connecting us with our customers and helping us to serve those customers more efficiently.
Cisco is constantly bringing new technology to enterprise networks and security. This week is Cisco Partner Summit and the new product releases they've shared have us more excited than the Black Friday sale sneak peeks! Here are just a few of the new technologies or technology updates released this week that we can't wait to share with our customers:
Simple, effective collaboration is more important to today's business than ever before. The workforce is no longer restricted to one office or to the old standard of 9-5. The workforce is becoming mobile and the days when business meetings were in-person are becoming obsolete. Whether you're making a simple phone call, scheduling a video conference or co-creating across a distributed team having the right solutions is essential for the business. Cisco collaboration products are catered to be simple and scalable for the enterprise and are designed to help you get great work. This week Cisco announced some major innovations in both cloud calling and team collaboration:
The Webex Room Kit Mini:

We all know the importance of scheduling meetings both internally and with customers, but the need to facilitate small teams and more informal meetings is becoming more important for business. Huddle-style meetings are on the rise and business are looking for solutions that support more informal meetings. According to Recon Research, there are 20 million huddle and small offices, growing at double digits. To keep up with this demand Cisco has released the new Webex Room Kit Mini! The Room Kit Mini is designed to bring the same user experience as the other Room Kits for communication in small spaces. It includes the same capabilities as the larger Room Kits, including facial recognition, noise suppression and video capabilities to adapt to the room and frame meeting participants.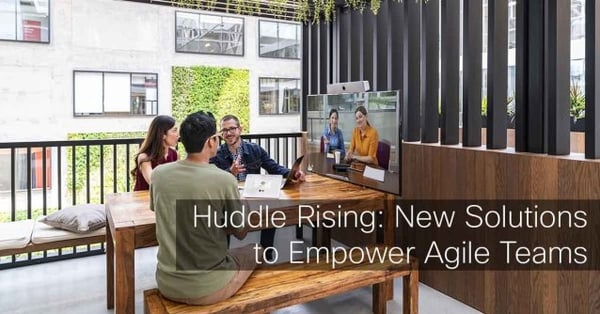 Webex Board 85:

The Webex Board portfolio is also expanding with the addition of the new Webex Board 85! This newest addition to the series allows you to co-create in your largest spaces – from board rooms to training facilities or large lecture facilities. It is the largest of any of the Webex collaboration products but is designed for easy transport and assembly! Cisco really thought of everything with this one – from an assembly frame that takes the hassle out of transportation to the ability to stand the unit upright to fit in a standard elevator!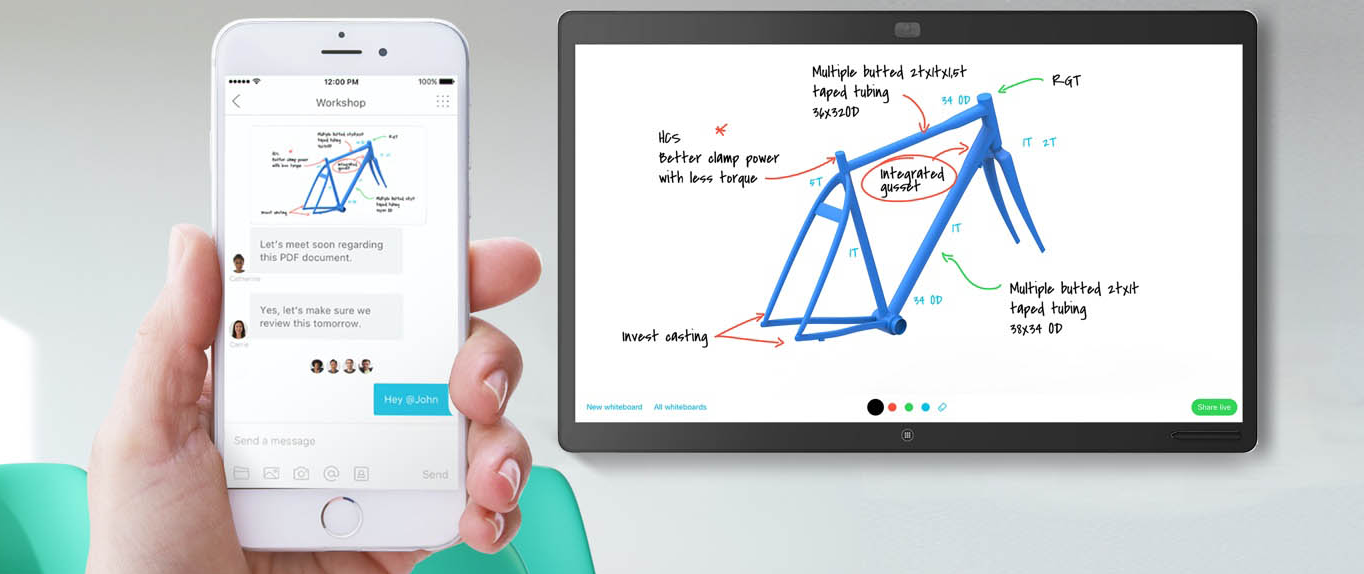 Broadcloud Calling:

Last year Cisco acquired Broadsoft and we have been anxiously awaiting the full integration of the two systems. This week Cisco introduced the new Cisco BroadCloud Calling cloud-based phone system. This system gives all the benefits of a traditional enterprise PBX in the cloud! This system provides world-class calling, meetings and team collaboration and is available on Cisco Webex Teams though service providers. Cisco also added BroadCloud Calling as a new calling option on the Cisco Collaboration Flex Plan.
Security is top of mind for all enterprises. As threats continue to evolve and attacks become more sophisticated it is our duty as solution providers to keep up with the threat landscape and provide new, innovative solutions to protect our customers network and keep critical data secure. Cybersecurity is no longer a division of an organization, it is something that must be integrated across the entire organization in order to be effective. Security solutions have to evolve to keep up with the rapidly changing threat landscape as well the different compliance requirements. The ideal security solutions are simple to manage and provide single pane of glass visibility into the organization without compromising the quality of security provided. Cisco understands these robust security needs and is constantly working to provide innovative solutions and integrate new solutions to improve their existing portfolio.
SDWAN Security Stack: SD-WAN is taking the enterprise by storm! The growth of cloud adoption has allowed users to connect to applications and critical data from any device, anywhere. This accessibility has optimized business output and employee efficiency but has also created new security concerns. With SD-WAN enterprises are able to access cloud applications faster, deploy at scale and simplify network management. Cisco has taken this a step further with its end-to-end secure SD-WAN platform! This week Cisco announced its new SD-WAN security stack built-in directly to the Viptela SD-WAN fabric. The new security stack focuses on four key security areas that are especially relevant to the branch: compliance, direct Internet access, direct cloud access and guest access. These new security stack features help to resolve many of the real-life security challenges the enterprise is facing today. Cisco has also provided a GUI-based workflow through the cloud-manages vManage controller to support the new security stack.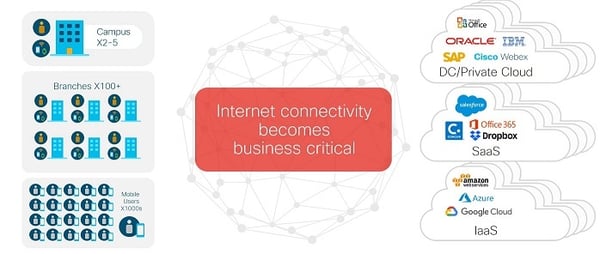 Identity management (Duo Security):

Securing your data starts securing access to your network and applications. Password protection alone is no longer sufficient to keep your data secure from threats. 80%+ of data breaches result from weak or stolen passwords. Two-factor authentication is becoming the standard for enterprise security, but not all two-factor authentication solutions are alike. No one wants to have to haul around a hard token or keychain to access the network and most of us are using phones that already use fingerprint or facial recognition. That being true, our phones are the perfect tool to use to verify out users are who they say they are! Earlier this year Cisco acquired Duo Security. Duo has built the world's easiest and most secure two-factor authentication solution. The solution is simple to deploy and integrates with your business applications instantly and seamlessly. With Duo your users can self-enroll to use and can authenticate in seconds – no codes needed! Duo can also establish device trust and secure access to applications without any addition IT work!

Finally, the network. The network is the core of the enterprise and Cisco has certainly not overlooked this in their releases this year. Keeping with their vision of intent based networking, Cisco is now working to deliver it in more places. Last year Cisco launched the intent-based networking portfolio with the introduction of the Catalyst 9000 line of switches as well as the Network Intuitive and DNA Center. This year Cisco is adding two new additions to the Catalyst 9000 line.
Catalyst 9200:

The new Catalyst 9200 switch is designed to deliver intent-based networking to all enterprise customer sites, regardless of size. The Catalyst 9200 runs the same OS as the rest of the Catalyst 9000 line and leverages the same family of ASICS, but the 9200 is designed for smaller deployments. This new switch gives mid-market businesses access to Cisco's full suite of enterprise services without compromising the security provided in the larger enterprise switches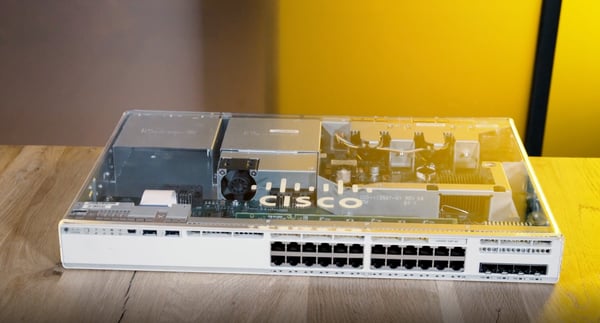 Catalyst 9800: The new Catalyst 9800 Wireless LAN Controller is also built on the same OS as the rest o the Catalyst 9000 line. These LAN Controllers can run virtually on other appliances in the Catalyst 9000 line or in the cloud and are designed to bring together the best of Cisco's wired and wireless capabilities into a single portfolio. With these controllers customers can customers can run consistent security, automation and analytics services and can install critical updates without affecting user access.
These new technology releases and updates are just the beginning of what is to come for enterprise networks, and we could not be more excited to be able to support our customers with these new solutions. If you would like to learn more about how LookingPoint can help you leverage your technology to help improve the business contact us today!
Written By: Eden Reid, LookingPoint Marketing Manager