Cisco leads the word in Corporate on premises telephony and collaboration solutions. For the past couple of years its trying to mimic this offering via its cloud services and Webex Calling. Webex Calling has been maturing pretty quickly and billions of dollars of investments result in new features and expansions on a weekly basis.

In this blog, we will go over some of their latest features and honorable features that deserve to be in the spotlight.

Webex Calling Chrome (Preview) – December 6th, 2022

This is still a preview feature and seems to be promising. Users with chrome books would probably make the most out of this one, but it is supported on :



Windows 10 and above
Mac OS Version 11 Mountain Lion (or later)
ChromeOS


Downloaded as an extension for Chrome browsers, you get a stripped-down calling application with your business number on it. You do not need any other Webex applications downloaded or installation no your system to make use of this extension
Download the extension, login and start making and receiving calls.
Requirements:
You do need a Webex Professional License.
Calling Features:
Incoming and Outgoing Calls
Corporate Directory Search and make calls from search results
Outgoing call from Keypad
Click to call a phone number from any Google workspace application and Chrome Web Page.
Call hold and Resume
Call History
Limitations:
You can only use the default audio input and output devices.
One browser client connected to Webex Calling.


Business Texting for Cisco Calling Plan Customers in US and Canada (December 6th, 2022)
Texting and SMS have eluded the VoIP telephony for a long time but now Webex is bringing it as a native solution as long as you are a part of Cisco's Calling Plan.
You can now send, receive, and read text messages from the Webex App while using your business number (biggest benefit is that you don't expose your personal number).
It's easy to enable, you either enable it for one user or for the whole organization.
Enabling for a group of users:
Login to admin.webex.com
Go to Users and search for the user you want to enable Business Texting
Click on that user and then on Calling and go to the box called Business Texting.
Select Override Settings and toggle the Enable button.
Or you can use CVS file to toggle the service on or off for users.
To enable Business Texting for the Organization:
Login to admin.webex.com
Go to Calling and Select Service Setting
Toggle the button Enable Business texting for all users at the location with business texting capabilities.
Requirements & Limitations:
Have a Cisco Calling Plan in US or Canada.
User must have Telephone Number (TN)
Running Webex App Version 42.12 and higher.
Can only be sent from Desktop client at the moment
Emojis , MMS, International Texts (both incoming and outgoing) aren't supported.
Webex GO (October 25th, 2022)
Webex GO leverages eSIM technology to provide you with a business line on a mobile phone over your phone's carrier. You do not require a data plan to use your business line, and you don't require a second phone. You can use your own personal mobile with 2 different numbers and lines.
Prerequisites:
Available only in US or UK regions.
Organization should have Webex Go Licenses (Paid or Trial)
Supported on unlocked, eSIM compatible mobile phones.
Sold through Webex Calling Certified partners.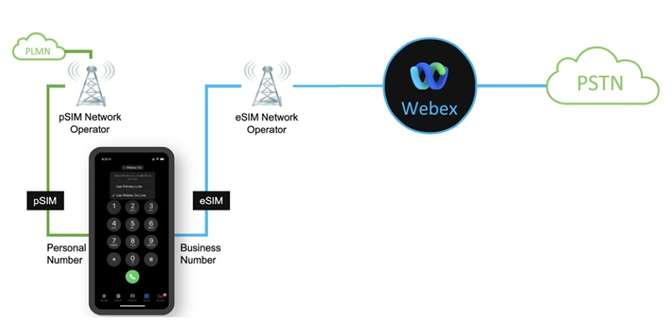 Group Call Management (October 25th, 2022)


Free call center capabilities that are easy to setup and use. Call Queuing in Webex Calling have been enriched with Call Center features. Below are some of the new features:

1. Call Routing Type
A. Can now be set Priority Based or Skill Based

Skill based is a single skill per queue and assigned to the agents when the selecting the agent.
If there are more than one agent with the same skill level, the selected routing pattern (Circular/Top Down/ Longest) is used to select the agent.
B. Priority based is same as the previous options with added options of Weighted and simultaneous.

2. Allow Queue Phone Number for Outgoing Calls
A. Allow agents to make calls from the Calling Number ID of the Queue.
3. Call Whisper
A. Play a prompt to the agent just before the incoming call is connected, usually to identify the Queue the call is coming from.
4. Allow Agents to Join and Unjoin Queue
5. Allow Agents on active calls to take additional Calls
6. Only for Skill Based Routing: Assign Skill level to the agents while adding them to the Queue, with 1 being the highest skill level and 20 being the lowest.
7. Bounced Calls, are calls that are sent to an available agent but the agent doesn't answer. These calls are then placed back into the queue at the top of all the queued calls. You can edit the settings of bounced calls
A. Select how many rings before bouncing the call.
B. Bounce if agent becomes unavailable
C. Alert the agent if call was placed on hold for a set number of seconds
D. Bounce call if it was sent on hold for a set number of seconds.
8. Allow the Call Back options
9. Queue Policies: Treat Calls differently during the following times:
A. Holidays
B. After Hours
C. Forced Forwarding, during emergency
D. Stranded Calls, Calls waiting in queue during working hours but no agents are signed into the queue.
10. Supervisors, native in Webex Calling, can perform the following functions when they supervise agents:
Silent Monitoring: Monitor the agent's call without the knowledge of the caller or agent.
Coaching: join an agent's call and only the agent can her the supervisor and not the caller.
Barge In: Join an agent's call, both agent and caller can hear you.
Take Over: Pull a call from the agent, this leaves supervisor and caller in the call.
Receive Faxes (Honorable Mention)
This is not a new feature but I'm including it as I believe it wasn't emphasized enough. You can allow users on Webex Calling to receive faxes via email.
Webex Calling Users can receive faxes on a new and unassociated number( different from their own number) and they would receive a soft copy of that fax attached in an email. It's included in their Calling License, you just need to enable it in the Voicemail section of the User configuration.
To configure this:
Login to admin.webex.com
Click on users and search for the user you want to enable to receive faxes.
Click on the user, go to Calling, click on voicemail.
Scroll to the bottom of the page, where it says Fax Messaging.
Toggle the bar to enable Receive Fax Messages.
Enter the phone number you want to receive fax messages on.
Any incoming faxes to this number will be sent via email to this user.
As always if you have any questions on Webex Calling and would like to schedule a free consultation with us, please reach out to us at sales@lookingpoint.com and we'll be happy to help!
Written By:
Freddy Tabet, Network Engineer